Rogue one: A Star Wars story, promotions started in Tokyo
Hollywood, Thu, 08 Dec 2016
NI Wire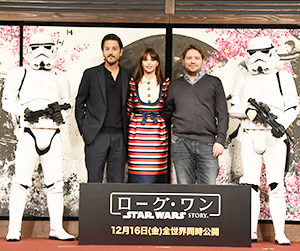 The most awaited Rogue one: A Star Wars story is all set to release on 16th December and its has just kick started celebrations at the Ritz Carlton Tokyo yesterday to promote the film. The major theme of the film that has been highlighted is that it contains a strong female lead.
The Director Gareth Edwards said, "I feel like I'm standing on sacred ground."
Felicity Jones said, "People keep saying how amazing it is having a female lead and i just sort of feel, well, of course!", "It shouldn't be such a big deal. We are half the population."
The Director Gareth Edwards said, "Obviously we have a female lead but I didn't want to view it that way because the typical thing to do is to go overly into a badass stereotype of a tough woman that no one relates to."
"Rogue One" tells the story of a group of unlikely heroes, who in a time of conflict band together on a mission to steal the plans to the Death Star, the Empire's ultimate weapon of destruction. This key event in the Star Wars timeline brings together ordinary people who choose to do extraordinary things, and in doing so, become part of something greater than themselves.
Main Stars of the film are Felicity Jones, Diego Luna, Alan Tudyk.
Rogue One: A Star Wars Story is all set to hit the Indian theaters on 16th December, 2016!