Karan Johar Claims to have 'Zero Knowledge in Singing' as He Sets to Find Out India's Singing Sensation
Bollywood, Wed, 07 Dec 2016
NI Wire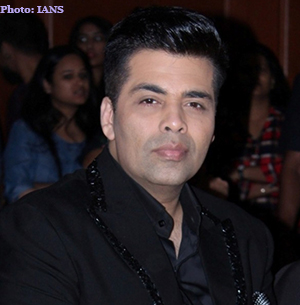 Mumbai: Celebrated Director and Chat Show Host Karan Johar modestly admitted that when it comes to singing, he is quite unknowledgeable. He also revealed that he, as a child, was advised by his mother not to sing in school during a competition.
"It's my first singing show. I can't sing at all. I have zero knowledge in singing." Karan said. The filmmaker was present for the launch event of the upcoming singing reality show Dil Hai Hindustani.
Although he said his technical expertise is nil in this form of art, he quickly added that his musical sense is intact. "But I must mention that I have been listening to Hindi film music for last 40 years. So I have a good ear for music", he said.
He opened up about his love for Mohammad Rafi songs for their ingredients of melody, romance, sweetness and sadness and said the Asha Bhonsle's Lag Ja Gale is his all time favourite.
Karan Johar is becoming a part of the show Dil Hai Hindustani, judging along with Rapper Badshah, Singer Shalmali Kholgade and Singer-Music Director Shekhar Ravijani. Stating about his way and basis of judging the contestants he said "I have grown up listening to music. Even though I won't be able to find out technical flaws in any of the participants, I will be looking for the X factor," he told the reporters.
Karan also added, "I will be discussing with my other judges before taking any final decision on participants as people like Badshah, Shekhar and Shekhar are music professionals and highly educated in music."
Having been a renowned Director, a Producer of many profitable and lovable movies and also having shown his skills as an actor (in Bombay Velvet), there are lesser roads that Karan has not travelled in Bollywood. He has been also making his presence felt on the Small Screen since the past few years and the people have graciously accepted him in all ways. A multitalented personality Karan Johar has already judged Jhalak Dikhla Ja, a celebrity dance reality show, as well as India's Got Talent, a reality show for showcasing a host of art forms. He has amused people with his dance on these shows in the past and also successfully hosts the Coffee with Karan, a popular chat show featuring close friends of Karan in the film industry.
With all these feathers in his cap, it would be interesting to see how he turns out to be, donning the role of a singing show judge. Talking about his journey as judge of reality shows, Karan Johar joked, "I have judged for six years. I can do PhD in judging."
He expressed that he was impressed by the kind of contestants that are coming on the show and the fact that people from abroad are singing Hindi songs with brilliance.
Dil Hai Hindustani is a singing reality show based on the grand idea of global participation of talented singers. There would be no bar on genres and solo, duet, trio choir, band, A Capella, all varieties of singing can be tried out on this platform. Although the theme is international, the participants would be performing only on Hindi songs. The contestants in age group 15-50 are eligible in this show. The musical extravaganza will be aired on Star Plus and is expected to give viewers a pleasant and never-before musical experience. The different format of the show coupled with the mix of flamboyant and talented judges would definitely hit the right chord in viewer's heart.