Alia Walks Away with the Best Actress Award Dismaying Sonam's Fans
Bollywood, Wed, 07 Dec 2016
NI Wire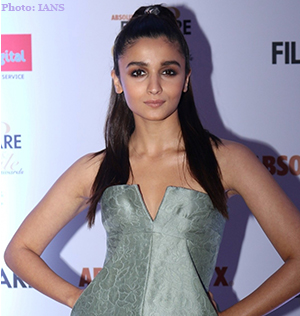 Mumbai: Alia Bhatt gave a blow to Sonam Kapoor's fans when she beat Sonam in the Best Actress category of Star Screen Awards 2016. The award was given for her brilliant acting while portraying two extremely opposite characters of a rural, illiterate labour and a modern, urban cinematographer in Udta Punjab and Dear Zindagi respectively.
Apart from Alia, Swara Bhaskar secured the Best Actress Award (Critics' Choice) for her role in Nil Battey Sannata. Although the deserving talent and performance of Alia cannot be disacknowledged, it also stands true that Sonam's performance in the movie Neerja as the dauntless Neerja Bhanot gave that first chance in her career when she could win an award, purely on the basis of her acting skills. Earlier, Sonam used to be in news only for her extraordinary modish appearances and she obviously wanted to remove this "only a fashionista" tag from her image.
Why the chance lost would have been more disappointing for Sonam, is that the other deserving people of the "Neerja camp" got the rewarded for their work. Ram Madhvani was adjudged as the Best Director while Saiwyn Quadras was credited with Best Story Screenplay for Neerja. Shabana Azmi received the Best Supporting Award and Jim Sarbh was recognised as the Best Debut (Male) for the same flick. Sonam's brother Harshavardhan Kapoor, who debuted this year with the movie Mirzya, shared the Best Debut award with Jim Sarbh. However, the film could not be selected as the Best Film, as Pink got the award for same. Film Critic Aniruddha Guha reacted by tweeting on this and said "Quite bizarre, the #StarScreenAwards winners' list. Funny how after winning Story, Screenplay and Director, #Neerja lost Best Film to Pink."
The exact reaction of Sonam on losing the award to Alia could not be obtained, but director Ram Madhvani who went to see Sonam after the Awards, conveyed that she was quite upset. Well, the disappointment of the lady who did a commendable work in the biopic is natural, given that she was thought to be the strongest contender for best actress. Alia's win and Sonam slipped chance didn't go down well with the fans of the latter and they gave some strong reactions on Twitter. The fans expressed their astonishment and anger through their tweets and this kind of support would have come as a consolation for Anil Kapoor's daughter. Some supporters said that totally ignoring the actress was a bad move and a joint award would have made them content.
All that can be said is – award won or not, Sonam you truly delivered a rocking performance in Neerja.