ISRO Launches PSLV carrying 1,235 kg Resourcesat-2A remote sensing satellite
New Delhi, Wed, 07 Dec 2016
NI Wire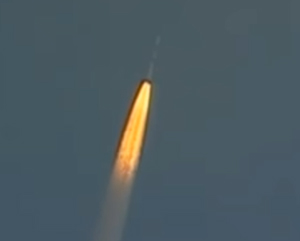 ISRO (Indian Space Research Organisation) successfully launched its PSLV 36 carrying remote sensing satellite Resourcesat-2A with a payload of 1,235 kg on Wednesday.
This mission will install country's earth observation satellite Resourcsat-2A in the Earth's orbit.
The PSLV-XL variant rocket standing 44.4 metre tall and weighing 321 ton tore into the morning skies around 10.25 a.m. with a deep throated growl breaking free of the Earth's gravitational pull.
The rocket was ferrying India's earth observation satellite Resourcesat-2A weighing 1,235 kg.
The 36-hour countdown for the rocket launch began at 10.25 p.m. on December 5,
The rocket lit off at 10.25 a.m. from the first launch pad at Sriharikota rocket port in Andhra Pradesh.
According to ISRO, the PSLV rocket 'XL' variant will place the Resourcesat-2A into an 817 km polar sun synchronous orbit.
ISRO said it offers the PSLV rocket to international customers to launch their satellites.
During 1994-2016, the PSLV rocket has launched a total of 121 satellites of which 79 are from abroad and 42 are Indian satellites.
--with agencies input