China Slammed by Trump on Twitter in Reply to His Recent Criticism
Washington, Mon, 05 Dec 2016
NI Wire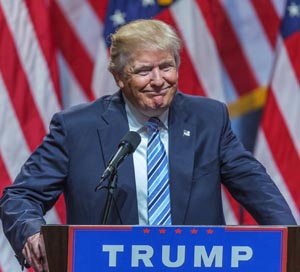 In what could be termed as a 'Twitter Attack', the US President Elect Donald Trump lashed into China for criticising him over a recent telephonic conversation with Taiwan's President. Trump lambasted China's aggressive approach in the South China Sea, as well as, it policy of taxing US products in his following tweets:
"Did China ask us if it was OK to devalue their currency (making it hard for our companies to compete), heavily tax our products going into..."
"their country (the U.S. doesn't tax them) or to build a massive military complex in the middle of the South China Sea? I don't think so!"
The Tweets came after China criticised Trump for breaking a Protocol by engaging in a phone call with Taiwan leader Tsai Ing-Wen, when the latter called to congratulate him on his success in US elections on December 2. In the beginning, the issue was tried to be suppressed by Chinese Foreign Minister Wang Yi calling it a 'little trick' of Taiwan which he trusted would not damage China-US healthy relation. Later, a formal complaint was lodged against the US.
Mr. Donald Trump through his tweet informed on December 3 that the President of Taiwan had called to congratulate him. Interestingly, Taipei Times cited an American Third Party as the responsible source for setting up communication between the two sides.
The telephonic exchange has resulted in breach of the US diplomatic protocol of the sensitive One-China Policy which has been maintained for about four decades. This policy demands countries, seeking diplomatic relations with People's Republic of China, to cut off official ties with Taiwan, which is considered as the rogue province by China.
Kellyanne Conway, Trump's adviser and the US Vice President-elect Mike Pence had tried to put down the controversy before the twitter attack, by assuring that the exchange was "brief" and "a courtesy call" respectively. However, according to Taiwan Presidential office, Trump and Tsai also discussed the future of US-Taiwan relations, the issues affecting Asia and related matters. Apparently Tsai, in reference to China's isolation policy with Taiwan from global forums like United Nations, has expressed her hopefulness that US would support Taiwan in its participation on international platforms.
China has urged US to stick to its commitment on One-China Policy and to handle the issues related to Taiwan sensitively in order to maintain peaceful relations with China. The National Security Spokeswoman Emily Horne has clarified that there is no change in the longstanding US policy and their principle interest is in maintaining peaceful cross-strait issues.