T20 changed people's mindset: Tendulkar
Delhi, Sat, 03 Dec 2016
NI Wire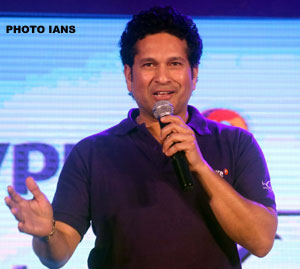 The Master Blaster Sachin Tendulkar talked about the mentality of people that popularity of the Twenty 20 cricket and technology had changed the mentality of the people. Tendulkar talked about that the other formats of the cricket which are not getting much popularity as compared to the T20 cricket format.
The India's batting maestro Sachin Tendulkar who was retired from Test cricket in 2013, said that there is a need of some rivalries to get back the interest of the spectators.
Tendulkar said, "The mindset of the people is changing. Twenty20s and technology has changed that mindset. When I was growing up, we were watching Tests and now kids watch T20."
He added, "When I was growing up, I watched Imran Khan bowling to Sunil Gavaskar and their rivalry was really engaging. We saw how to defend on backfoot among many other things."
"The competitive rivalries of Viv Richards-Jeff Thompson, Curtly Ambrose-Steve Waugh, Brian Lara-Glenn McGrath generated a lot of interest among the fans."
The master said that the retirement has given him the opportunity to live life on his terms and that's why he does not miss cricket much.
Tendulkar said, "I did not miss playing cricket after I retired but it is nice to play an exhibition game once in a while. I played three games in America with retired cricketers and the response was magnificent. But yes, I do miss the love and affection of the fans."
He added, "It is nice that I get to do the things that I could not do while playing. Overall it has given me the opportunity to live life on my terms and and mingle around."

--with agency inputs