Apple iPhone 8 Foldable OLED: Curved Sides & Edge-to-Edge Display to Compete With Samsung Galaxy S8
New Delhi, Thu, 22 Dec 2016
NI Wire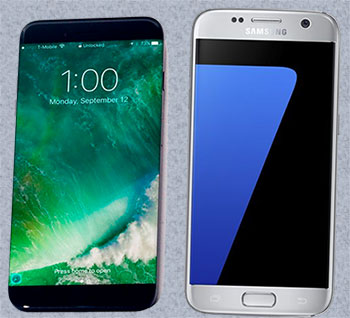 With every new version of iPhone, Apple makes sure users get novel and unique experience. After iPhone 6 and 7, the iPhone maker is all set to come up with its next generation of iPhone - iPhone 8 OLED.
iPhone 8 will have plastic OLED and not glass OLED. A plastic OLED makes sure the phones give an edge-to-edge display feature. It is being considered as a wise choice as plastic will reportedly make the screen curved from all sides and enable it to bend. The display feature of iPhone 8 foldable OLED will be devoid of unnecessary bezels on all sides and will provide a unique "waterfall" look to the product.
iPhone 8 Foldable OLED - What is the USP?
Where Samsung Galaxy S8 is aiming at having "all screens" concept incorporated in the phones, Apple is intending towards deploying new touch screen technologies into iPhone 8 foldable OLED. A source from the iPhone making company claimed that the USP of the product will not be its foldable character or display alone but it was exploring new sensor technologies to give it a special look and feel.
"The upcoming iPhone may use new sensing technology, which enables the phone to respond when udders touch any side of the device. But, Apple may not adopt this technology," the source added as quoted by Fox News. The iPhone maker avoided giving details on the matter.
According to reports, Apple iPhone has requested LG Display to produce OLED displays such that the users could be delivered to more than 200 million units until 2018. Samsung Galaxy S8 and iPhone 8 foldable OLED appear to have a tough competition in the market with both of them emerging with unique features and attractive structure.
IPhone 8 Foldable OLED Further Expected Plans
It seems that Apple will introduce three different iPhone models in 2017. Two of them will be the conventional LCD flat-panel iPhone 8 modes – one will have 4.7 inches flavor while the other will have 5.5-inch flavour.
The models will have curved and edgeless display, which is one and the most special characteristic of the foldable version. Apple analyst Ming-Chi Kuo said that the OLED planning has been made in November.
"In terms of the display size of the OLED iPhone, current information from the upstream points to 5.8", while that from the downstream points to 5", which does not conflict, in our view," he said. "We predict OLED iPhone will adopt a 5.7-5.8" flexible OLED panel (with Samsung (KR) as the exclusive supplier). Nonetheless, for 'specific design purposes', the actual active area may be around 5.1-5.2". Other than the OLED model, we expect Apple to launch new 4.7" and 5.5" TFT-LCD iPhone models."
Apple has few months in hand to test and decide if introducing iPhone 8 foldable OLED in the market would be a right decision. Because of the complicated features incorporated in the product, it is necessary to take a final decision whether to produce it in bulk quantities. Once given a green signal, iPhone 8 foldable OLED will be ready to be produced in bulk over the summer.