Reliance Jio brings Pokemon GO to India
New Delhi, Fri, 16 Dec 2016
NI Wire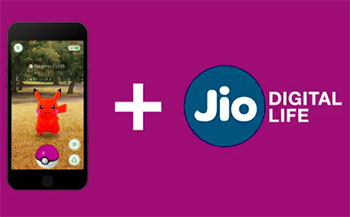 In a partnership with Niantic, Inc. the Reliance Jio Infocomm Limited (Jio) is bringing the much sought after, Augmented Reality game Pokémon GO to India. Niantic, Inc. is a publisher and developer of Pokémon GO in association with The Pokemon Company.
The thousands of Reliance Digital Stores and select partner premises in India will appear as PokeStops or Gyms in the Pokémon GO game beginning with this partnership. This mission is in line with Jio's mission to empower Indians with opportunities that are fuelled by the power of data and a digital life and to delight them on an ongoing basis with entertainment-based apps, such as Pokémon GO, one of the leading apps in the gaming category.
The Chief Executive Officers and founder of Niantic, John Hanke said, "We are delighted to partner with Jio to launch Pokémon GO in India." "It's exciting to see Pokémon fans in India step out and explore their neighbourhoods in search of Pokémon and Jio's disruptive high speed 4G LTE Network will be an excellent way to experience the game."
To bring Indians a richer and more enjoyable mobile entertainment experience for Pokémon GO, these two companies will work. It also include activating Jio retail locations and charging stations as PokeStops and Gyms within the game and allowing Indains to catch, train, and battle at any of Jio's outlets throughout the country.
Pokemon players have access to an exclusive Pokémon GO Channel on Jio's social messaging app, JioChat. The Pokémon GO Channel on JioChat a fun way to socialize with other players and level up faster. It will enable Pokémon GO players to collaborate and be part of an exciting community of players with daily tips, contests, clues, and special events.
President of Reliance Jio, Mathew Oommen said, "With over 500 million downloads globally, we are excited to launch Pokémon GO officially in India on the Reliance Jio network." He further added, "Our partnership with Niantic not only brings access to the Pokémon GO app but also opens the door to more opportunities for our customers to enjoy content on Jio's one-of-a-kind mobile broadband network."
This partnership will put Pokémon GO players on a world-class all-IP data strong network, and during the Happy New Year offer, Jio SIM customers will be able to download and play Pokémon GO without incurring data Charges, like any other apps and content till March 31, 2017.