A Look Back at the Thalaivar as he Turns 66 and with Elan
Bollywood, Mon, 12 Dec 2016
NI Wire
null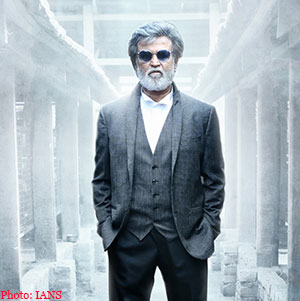 "Rajinikanth"- the name itself is enough to ignite the feelings of a millions of people and to adjudge a movie as a Blockbuster. The Thalaiva (same as Thalaivar meaning a Boss or Leader in Tamil), as he is popularly referred to, is a kind of era in Kollywood and that needs no proof. The heartthrob of many is celebrating his 60th birthday today amidst the shower of blessings and wishes from his crazy fans.
On this special occasion, the Superstar is holding a grand Yagna (sacrificial worship) in the Kamakshi Amman temple in Kancheepuram. While he organises this Puja, his fans are busy celebrating the day of birth of their favourite star through religious offerings and worshipping rituals in various regions of the South. The walls are adorned with posters of the Hero and distribution of sweets among the followers is taking place in various streets of Chennai and other places.
If we look back at the life of the Southern Superstar, it seems to come out straight from a movie script. An extraordinary journey is reflected in the way, in which he carved his way into the Cinema breaking away from being a bus conductor in Bangalore Transport Service and slowly became a force to be reckoned with. It was director K. Balachander who gave him his first break in the movie Apoorva Raagangal in 1975, only a couple of years later when he joined the Madras Film Institute to pursue an acting course. His debut movie had him in a small role and co-starred Kamal Hassan, another reputed actor. The film was controversial, in terms of portraying relationships between people of with huge age gap, and also went on to win three National Awards. After being cast in negative shades and a womaniser in the early part of his movie career, his image got a makeover by filmmaker S.P. Muthuraman in the movie Bhuvana Oru Kelvikkuri in 1977.
The distinctive style of the star born as Shivaji Rao Gaekwad and known fondly as Rajini (short form of Rajinikanth, his stage name), is something to swear by. Whether the brisk walking style or his tossing of cigarettes in the air or sunglasses from elbow level and making them sit on the right position of lips and face respectively after being rolled a few times, the signature style has caught the fascination of lakhs of people. Again, the famous Thundu (big stole) which is draped on shoulders after it is flipped in folds and the punch lines before and after punishing the villains are something that is truly his own brand. The signature moves have been adopted by many other Heroes in the film industry, even in Bollywood.
Some of his movies feature strong political lines which many people relate with his political aspirations. The super heroic attributes found in characters, is not limited to reel life. In reality, He is man of immense family values and spiritual in nature. He has charmed many with his wisdom and humility on public platforms and carries on with his philanthropic activities without making much noise. Not only this, his boldness exhibited itself when he severely criticised the misruling of Late AlADMK leader Jayalalithaa's Government. The slamming reportedly had a great role in the polls victory of DMK-TMC in 2006. With such an intimidating personality on and off-screen, it is not much of a surprise when we see his fans drooling over him.
If we talk about his feats, his films like Mutu: Odoru Maharaja, Enthiran and Sivaji were internationally acclaimed and broke many records profit wise. Although he is more popular as a commercial entertainer, Rajini has also proved his pure acting prowess in the early part of his career in off-beat movies. He has displayed his acting skills in Tamil, Telugu, Kannada, Malayalam, with a brief stint in Hindi flicks and even in Bangla. Such is his persona that even now directors are ready to pour money depending solely on his credibility.
The phenomena in himself, Rajini is about to woo his fans with his upcoming movie 2.0, a sequel to Enthiran, directed by S. Shankar and being made with an estimated budget of about Rs.400 crores. Seems like another historical box office record is in making.
null