India defeats England, Kohli gets 'Man of the Match'
Mumbai, Mon, 12 Dec 2016
NI Wire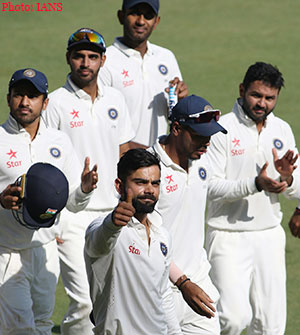 India defeated England by an innings and 36 runs in the fourth Test and celebrated its stunning victory over the visitor's team. After winning this match India clinch the series with 3-0 in the five match series.
In the morning session the visitor's team were bowled out for 195 runs after resuming on the overnight 182/6 in their second innings.
Jonny Bairstow (51) was the first to get out in the morning, followed by Ben Stokes (18), Adil Rashid (2), James Anderson (2).
England team was dismantled by the star off-spinner Ravichandran Ashwin who picked up 6/55 in the second innings and in the match he took total 12 wickets.
Left-arm spinner Ravindra Jadeja returned figures of 2-63 while pacer Bhuvneshwar Kumar and rookie spinner Jayant Yadav claimed a wicket each.
Indian cricket team captain Virat Kohli, who scored double century during India's first innings was awarded by 'Man of the Match' title.
Virat Kohli made his third double century of the year, scored 235 runs in the fourth test match.
On the other side, bowler Jayant Yadav made 104 runs and these two put together a partnership of 241 runs to help India to reach at 631 runs in its first innings.
India coach Anil Kumble praised his wards and asserted that the current batch of players, are among the best to represent the country over the years.
Kumble said at the end of the match, "You cannot really compare with the teams of the past. Those were different eras and different teams. But this team certainly is the number one team in the world today and has the potential to be the best ever Test team in terms of results."
The Indian cricket team coach added, "They have done well over the last couple of years. The team is exceptional in terms of the intensity that they have showed on the field and in terms of situational awareness. They are coming out of difficult situations in this series and also in the series against New Zealand."
He added, "Everyone has contributed to the team's success. That is the beauty about this team. I do not really like to compare but this team is certainly special. I am privileged to be a part of this set up."
Indian team did not have to wait long for the first wicket for the day as Ashwin trapped Jonny Bairstow leg before. Bairstow, who was the second highest scorer in England's second innings with 51 runs, called for a review, but the third umpire backed the original decision.
And then, Ashwin cleaned up the wickets of Adil Rashid and James Anderson to complete a well-deserved victory for India.
As you know,in the series of five test match series, four matches were played till today in which first match was a tie and after that India won all three matches and clinch the series from England team.
--with agency inputs
भारत ने इंग्लैंड को पारी और 36 रनों से शिकस्त दी | India beat England by an innings and 36 runs