Hardik got injured, need six weeks to recover
Mohali, Tue, 29 Nov 2016
NI Wire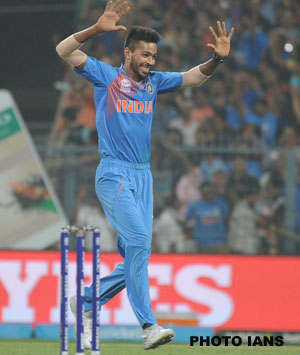 During a net session ahead of the ongoing third cricket test match against England, India's all-rounder Hardik Pandya got injured .
Hardik Pandya was out of the Indian team after getting injured in his right shoulder and got a hairline fracture. Now he is out from the Indian squad for six weeks. It clearifies that Hardik Pandya has to suffer more.
It was confirmed from the Board of Control for Cricket in India (BCCI) that he has a hairline fracture on his right shoulder on Tuesday.
The Board clearifies in a statement that, "BCCI medical team confirms that India all-rounder Hardik Pandya has sustained a hairline fracture on his right shoulder. He will take minimum six weeks to recover from this injury."
In a statement, BCCI also added that, "BCCI medical team will monitor his progress and rehabilitation programme and update accordingly."
When Pandya got injured, it is expected to be that K.L Rahul will be fit in the fourth test match against England which will be played in Mumbai begins on December, 8.
In a statement, BCCI said it was expected that K.L. Rahul will gain fitness for the fourth test of the five test match series against England.
Hardik Pandya's pace and one-day form impressed the selectors and then he got selected for the test squad for the very first time.
--with agency inputs