How Black Money will be taxed?
New Delhi, Mon, 28 Nov 2016
NI Wire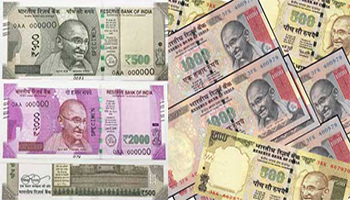 Union Government today presented amendments to the Income Tax Amendment Bill in its attempt to check large, unaccounted cash deposits post demonetisation.
As per reports, the government has put forward 30% tax on undisclosed income, along with 10% penalty and 33% surcharge.
A 75 per cent tax and 10 per cent penalty has also been proposed in case the Income Tax authorities detect undisclosed wealth deposited post demonetisation.
The amendment also proposes that 25% of the undisclosed income to be deposited in the Pradhan Mantri Garib Kalyan Deposit Scheme.
There may not be a blanket reprieve for anyone depositing demonetised notes up to Rs 2.5 lakh under the scheme being worked out by the government for those holding unaccounted cash.
Tax officials may look at all significant deposits of demonetised notes to see if there is unaccounted wealth or smaller deposits in a household in different family members' accounts.
"There is a Rs 2.5 lakh exemption but if you have split (the money) and four family members have each deposited this amount, then it will need to be seen," said a government official.
"We would be getting reports of all cash deposited during the period of November 10 to December 30 above a threshold of Rs 2.5 lakh in every account," Revenue Secretary Hasmukh Adhia had said on November 10. "The department would do matching of this with income returns filed by the depositors. And suitable action may follow."