IFFI provides much needed platform for Young Directors of Indian Panorama
Goa, Sat, 26 Nov 2016
NI Wire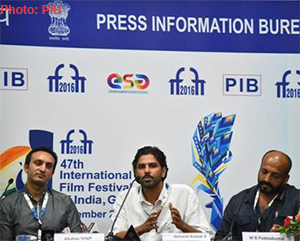 In the 'Meet with Directors of Indian Panorama; at the 47th International Film Festival of India, the Directors expressed their satisfaction over for platform that IFFI 2016 provided for the young film makers. Further they narrated the experiences of making of their films.
Gireesh Kumar, Director of Randu Kurippukal spoke about the movies related to subject of social issues. The movie he directed is very close to his heart as it involves all the characters from his family. He also emphasized that much needs to be done to promote the movie with social issues. He also expressed that distribution channels for the independent film makers.
Randu Kurippukal is a story of an old couple, in their seventies, lives in a village, waiting to see their daughter and grandson. But the only daughter who lives abroad with her child is reluctant to come back to her parents. Finally, a boatman left behind with a one year old son changes the world around the old couple. Gireesh Kumar is doing a Post Graduate Programme in Cinema, at the Satyajit Ray Film and Television Institute, India. His films like Jalasayanam and Randu Kurippukal have won the Golden Royal Bengal Tiger Award at KIFF.
M B Padmakumar, Director of the Feature Film Roopantharam said that his movie is very different and the theme is based on differently abled people. He believes that it is a good effort that in absence of censorship at Indian Panorama since it gives a chance for their films to be screened and express ones' creative freedom.
The movie Roopantharam is an individual reaction of a blind person, who cannot explain the Vision and the 'World of Sound' he lives in. It revolves around Raghavan, the protagonist who is also a blind man, and lives 65 years of his life only through the world of sound. He further said that his movie has got good response and he is waiting for another screening to take place. M B Padmakumar, is filmmaker, Screen writer and an actor, who has worked with many renowned Film Makers. His second directorial venture 'Roopantharam' was nominated for National Film Award 2015.
Akshay Singh, Director of Pinky Beauty Parlour said that his film got an overwhelming response. It highlights the issue of skin colour bias in India. The director told media that it is something that we are taught, not something we are born with so one has to unlearn it. He said that his film is satirical black comedy, and is an engaging, entertaining, and a poignant tale of the repercussions of this obsession for fairer skin has on a human mind, families and society in general.
The movie is fiction and based on his personal experiences and number of articles he researched. Every audience could relate to his film because of subject. It follows the journey of two sisters, Pinky and Bulbul, who run a beauty parlour in Banaras, and are drawn into a complex and story of inter-mingled loyalties and insecurities. Pinky Beauty Parlour is a debut film as director and producer for Mr. Akshay Singh.
Source: PIB