Prayers, drumbeats, revelry on Maha Saptami in Bengal
Kolkata, Sat, 08 Oct 2016
IANS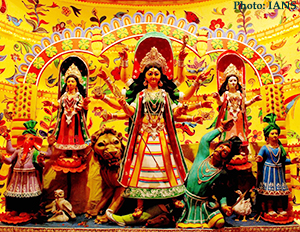 Kolkata, Oct 8 (IANS) After a scintillating start, the Durga Puja spirit soared on Saturday which marked Maha Saptami -- day two of the Puja -- as thousands of revellers decked up in their best hit the streets of the metropolis and the districts of West Bengal.

Bells chimed, cymbals clanged and the invigorating beats of "dhaak" (drums) set the pace for the rest of the day.

The day began with morning prayers, as the rituals started off with "pran pratistha" where the deity was symbolically endowed with life and invoked in a group of nine plants bunched together -- the Navapatrika.

The "Kola Bou", a tender banana plant symbolising a bride, was given a river bath amidst drum beats, wrapped in a sari and placed next to the idol of Ganesha.

Through "pran pratistha", the spirit of Durga as a warrior goddess is awakened, and she starts her battle against the manifestation of all evils in the shape of Mahishasura -- the buffalo demon.

In consonance with custom, fasting devotees offered flowers to the goddess in obeisance and later gorged on an array of delicacies.

People from the metropolis, the Bengal villages, other parts of India as also various countries walked shoulder to shoulder in gay abandon, paying obeisance to the goddess and watching in awe the colossal marquees - many of them beautiful works of art - on Maha Saptami (the seventh Lunar day).

They danced, mingled with friends and family, relished the street food on makeshift stalls and patiently stood in long queues before the landmark marquees. Even a brief spell of rain failed to dampen their spirits.

At least 3,000 community pujas have been organised in Kolkata, with diverse themes, lighting and decorations wooing the people.

The five-day carnival is the biggest annual event in this part of the world when even newspapers shut down and roads are choked with human traffic throughout the day - and night.

The pujas at the houses of erstwhile zamindar (landowner) families of Hatkhola's Duttas, the Devs of Shovabazar in North Kolkata and Bhowanipore's Mullicks also drew a steady stream of onlookers.

Traditional pujas usually have medium-sized idols within one frame (ek chala) and are decorated with pith.

According to Hindu mythology, the festivities and prayers begin with the symbolic arrival of the goddess on earth on the sixth day of the first quarter of the moon and ends on Dashami or the 10th day, which is celebrated across the country as Dussehra.

Traditionally, every pandal has an idol of Goddess Durga depicting her as slaying the demon Mahishasur. She is shown astride a lion and wielding an array of weapons in her 10 arms.

(IANS)