Meghnaath and Kumbhkaran Vadh at LuvKush Ramleela Day 9
New Delhi, Mon, 10 Oct 2016
NI Wire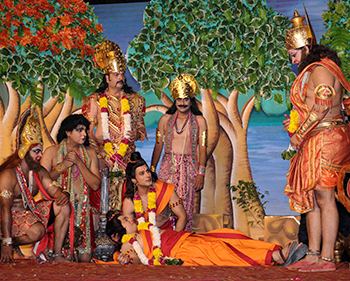 LuvKush Ramleela on it's 9th day displayed Meghnad and Kumbkaran Vadh which are the main events of a Ramleela. Characters like Hanuman were also seen flying in air.
Some new names were also introduced on the day which were Bhojpuri actor, singer and m.p. Manoj Tiwari. Manoj Tiwari played the role of Angad and in his dialogues, also mentioned the surgical strike Indian army did in Pakistan by using lines like 'Hanuman bhi surgical strike karke aaye the Lanka se'.
When asked about these punches used by him, he said, 'I thought it would be suitable using these lines at that moment.'Except him, Meghna Naidu also performed the role of Sulochna.
Special guest of the day was Suresh Prabhu, Railway minister of India who watched the whole performance with LuvKush Ramleela's chairman Sh. Ashok Aggarwal.
The 9th day of LuvKush Ramleela also ended to be a hit. The 10th day will show the war between Ram's Sena and Raavan's sena.