Nine-day 'Shardiya Navratri' festival begins with the puja of Maa Shailputri
New Delhi, Sat, 01 Oct 2016
NI Wire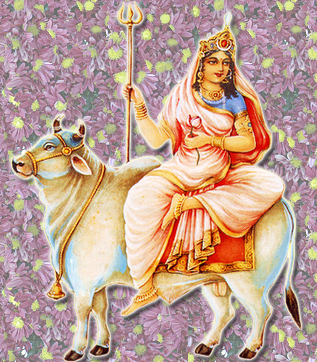 New Delhi: The nine-day 'Shardiya Navratri' festival celebration started across India with the puja of Maa Shailputri, the goddess of first day.
On the first day of the Navaratri devotees begins puja with Kalash staphana and prayer of Goddess Shailputri.
This day devotees visits various temples of Goddess Durga across the country. Thousands of devotes thong to the temples of Goddess Durga at various temples across the country.
In New Delhi, devotees offers payer at Jhandewalan temple, devotees observers fast on the days of Navaratri.
"We observe fast for all the nine days for the getting the blessing of Goddess Durga," said Ishaan, a devotee.
In a year there are total of 4 Navaratris, but only two is observed by general people of the country.
On the first day of 'Shardiya Navratri', devotees worships Goddess Shailputri-The daughter of mountain.
The nine day celebration of the 'Shardiya Navratri' starts with the worship of Shailputri. The nine day observance ceremony is set to begin from October 1st and it will be continue until October 10
Known as Chaitra Navratri, it starts on the first day of hindi month known as Chaitra and it ends with Ramnavmi, the birth of Lord Rama.
'Shailputrihas been mentioned so being the daughter of Himalaya in Puranas and the first among the nine forms. Himalaya named the girl Parvati or Hemvati. She tore the ego of various gods. They bowed down and accepted her as Shakti.
She took avatar to relieve the gods of the tyranny of the demon Mahishasur. Durga is the aggressive face of the Goddess Shakti who was born to fight with demons.
Durga being a warrior is invoked to protect human beings from every evil whether foreign power or diseases.