Dengue Fever: Facts about, Symptoms and Prevention
New Delhi, Sun, 06 Sep 2015
NI Wire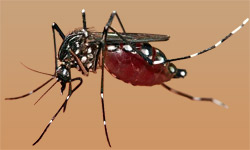 India is believed to be the Dengue capital of the world with the most recorded cases of the disease. The monsoon season further increases its incidence owing to the innumerable potholes where water gets collected.
Expert Padma Shri Awardee and Honorary Secretary General IMA Dr. K.K. Aggarwal said that this stagnant water acts as ideal breeding grounds for the Aedes mosquitoes, the vector responsible for spreading the illness. According to a recent report, over 58 lakh Indians are diagnosed with Dengue each year, a figure 282 times greater than the officially recorded number of 20,000 annual cases.
About Dengue Mosquitoes: The dengue mosquito lays its eggs on the walls of water-filled containers in the house and patio. The eggs after they hatch can survive for months. Female mosquitoes lay dozens of eggs up to 5 times during their lifetime. The life cycle of the mosquito from egg to larvae, pupae, and to an adult mosquito is about eight days and occurs in water.
Symptoms: The typical symptoms of dengue are fever, vomiting, headache, nausea, pain behind the eyes and severe joint and muscle pain. Most dengue virus infections in adults are symptomatic (86%) and in children under the age of 15 years are asymptomatic or minimally symptomatic.
Classic dengue fever is an acute febrile illness accompanied by a headache, retro-orbital pain, and marked muscle and joint pains. Symptoms typically develop between 4 and seven days after the bite of an infected mosquito.
Complications: In dengue, most complications occur within two days of the fever subsiding and most people are casual during this period. Any abdominal pain, giddiness or weakness after the fever has subsided should be attended to, by a doctor.
Most complications of dengue occur after the fever is over. The two days after the last episode of the fever are crucial and during this period, a patient should be encouraged to take plenty of oral fluids mixed with salt and sugar. The main complication is leakage of capillaries and collection of blood outside the blood channels leading to intravascular dehydration. Giving fluids orally or by intravenous routes, if given at a proper time, can save fatal complications.