Danger Dengue: Aedes mosquito is more active in early hours of the day
New Delhi, Sun, 20 Sep 2015
NI Wire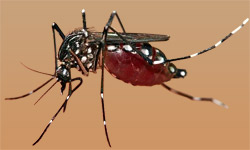 The North Delhi Municipal Corporation launched massive Intensive Dengue Prevention Drive in its all 104 wards so that besides anti-larvae and fumigation of the area, citizens could also be sensitized about its prevention. The drive comprised teams of Malaria Department for multi-throng activity like anti larvae, fumigation through hand handled machines, vehicles mounted fogging machine, power spray for stagnant water in large quantity, domestic breeding checkers for door to door checking and one to one education about preventive measures.
Besides this, mobile public address system was used to educate and create awareness for taking preventive measures by each and everyone to check the spread of Dengue. It was also advised that Aedes mosquito is more active in early hours of the day and one must wear such clothes that covers the full body, people in shorts and vests are likely more prone to mosquito bite.
Chairman Standing Committee, Mr. Mohan Bhardwaj said that there is lot of need to improve civic sense and awareness about sanitation and about the Dengue disease. The Delhi Govt. has kept Rs. 526 crores for publicity which should be utilized for the purpose of creating awareness among the masses. The advertisement should contain the message that helps in educating the masses for promoting civic sense and healthy lifestyle to keep the diseases away.
Leader of Opposition, Mr. Mukesh Goel said that during the intensive situation of dengue we all need to support each other rather than politics. Commissioner, Mr. Praveen Gupta said that the drive aimed to cover the maximum area specially areas like Burari, Inderpuri, Kirari, Kanjhawala, Mukandpur and other alike from where more cases are being reported. In the drive all aspects are covered for educating the citizens, physical action of focal spray for larvaeside, fogging for adult mosquitoes etc. He said such drives would continue till we are able to check the number of patients.