Health Ministry issues fresh advisory to Delhi Govt. on Dengue
New Delhi, Sat, 19 Sep 2015
NI Wire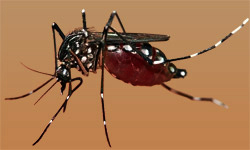 Union Health Minister: Centre has extended all support and assistance to states to manage Dengue; will continue to do so
The Union Health Ministry has issued a fresh advisory to the Delhi Government to intensify vector control measures in view of the recent rains. In the advisory issued today, the Health Ministry has stated that "In view of rains today morning and forecast by Indian Meteorology Department, there is a possibility of water stagnation in containers and disposed plastic and junk material giving rise to breeding of Aedes mosquitoes. As presently in Delhi and neighboring areas, circulation of Dengue virus is going on, it is advised that the vector control measures need to be intensified to contain the problem of dengue. You are requested to instruct all concerned officials and department to intensify the efforts."
Around 12 advisories have been issued from March to August this year regarding Dengue by the Union Health Ministry. This includes an advisory by the Union Health Minister to all the state Chief Ministers in April 2015. The Union Health Secretary had also issued an advisory to the Chief Secretaries in March 2015.
"We are closely monitoring the situation and hence this advisory has been issued in wake of the fresh spell of rains. The Ministry has been extending the required technical and financial support and assistance to the States to manage and address Dengue, and will continue to do so in order to strengthen them to address the recent upsurge," said Union Minister for Health & Family Welfare Shri J P Nadda.
The Health Ministry had earlier directed all hospitals under the central government that no patient suffering from fever or suspected to have Dengue should be denied treatment and the bed strength, if needed, should be increased to accommodate all patients who are visiting the hospitals for treatment for suspected dengue.
The Health Ministry has also asked the Delhi Government to take action against any overcharging by the private hospitals while providing treatment to dengue patients. In addition, the Delhi Government has been asked to increase the bed strength and expedite this for dengue patients in the state hospitals. The central government hospitals are fully geared up to infuse platelets whenever there is a need. Adequate stocks of NS1 and IgM testing kits to detect cases of Dengue are also available with identified 514 sentinel surveillance hospitals and apex referral labs.
The Health Ministry has been undertaking intensive IEC campaigns for enhancing awareness among the masses regarding the preventive and curative measures to be taken in case of dengue. States have been supported to prepare for preventing and treating Dengue cases by organizing meetings, sensitization workshops, meeting with public representatives including Mayors and Corporators. Central teams from the Ministry of Health & Family Welfare have visited high endemic states which have reported large number of cases, to provide technical guidance to the states to combat the situation.
Several high level meetings under the chairmanship of the Minister for Health & Family Welfare with the senior officers of the Ministry, the Directorate NVBDCP and heads of various central government hospitals in Delhi, officials of the Delhi Government, officials and Mayors of NDMC and MCD, Delhi Cantonment have been held to review the situation of Dengue in Delhi and other states in the recent months.
The Ministry has impressed upon all the concerned departments and the public to actively promote cleanliness so as to reduce the breeding places for the dengue mosquitoes. At the request of the Union Health Ministry, the CPWD has advised all its offices to allow NDMC and MCD officials access to roof tops of building to check breeding. The instructions also note that special measures need to be taken for vector control in construction sites, basements, roof tops and unused buildings.
Source: PIB