Rupee lost 24 paise against dollar in early trade
New Delhi, Mon, 29 Jun 2015
NI Wire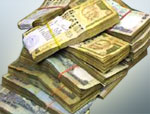 Rupee is loosing against the dollar for the last 4 days and today in early trade is lost 24 paise against dollar. Today in early trade rupee lost against dollar and this is the trend for the last 4 days.
On the fifth consecutive day rupee is loosing against dollar and on the fifth consecutive rupee shed 24 paise to trade at 63.88 against US dollar in the early trade.
This loss is due to the continued demand for the American currency for importers.
The lower opening in the domestic equities also kept a pressure on the rupees.
The BSE Sensex also plunged 535.87 point, or 1.92%, to 27,275.97 in the opening trade at the stock exchange.