Keep it simple and overcome pressure: Chief Coach Mathias Ahrens
New Delhi, Sat, 20 Jun 2015
NI Wire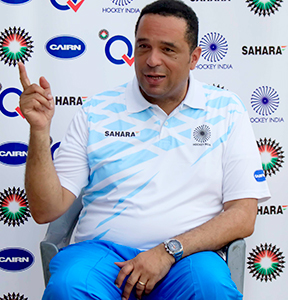 New Delhi, 19 June 2015: As the much awaited FINTRO Hockey World League Semi-Final 2015 is all set to commence from tomorrow, 20 June 2015 in Antwerp, Belgium, all the 10-participating teams are entirely geared-up to exhibit their finest skills and put-up their best show on the field during the tournament to qualify for the 2016 Rio Olympics.
On the inaugural day of the tournament, FIH Rank # 13 India will lock horns with the FIH Rank # 12 Belgium in the Pool B match.
In the recent times, India Women team faced Belgium twice during the 2014 FIH Champions Challenge 1 in Glasgow, where they lost both the matches against the European team. However, the Indian eves will be looking forward to breaking their jinx of losing against the host nation Belgium and will be aiming at starting the tournament on a winning note.
Indian players will vie to continue their good form in the prestigious tournament by utilising the experience they gained from their practice matches and will be seen emphasising more on converting maximum number of goals through penalty corners. On the other hand, Belgian eves are working hard to continue their winning streak against India.
Both the teams are maintaining their momentum and are ready to display their best show at the League ahead.
Speaking ahead of their first clash against Belgium, India Women Team Chief Coach Mathias Ahrens stated, "The team's aim is a berth in the 2016 Olympic Games. The team has been preparing itself from the Hawke's Bay Cup 2015, keeping this upcoming FINTRO Hockey World League Semi-Final 2015 in mind and the players have improved their skills as well as strategies according to the competition level here. Tomorrow will be a test for the entire team as it will give us a real time analysis of where do we stand and how immediately to plan for the next clashes. The team is confident and are aware that they have to stick to the strategy and keep it simple. The idea will be to not allow pressure to seep in and which gives an edge of reacting in minimal time."
Commenting on the upcoming tournament, India Women Team Captain Ritu Rani said, "Tomorrow's clash is very important as a win will boost the confidence level. The focus will only be possession and to not lose control of the ball easily. If we do this I think we create pressure and have our chances to score the crucial goals"
The FINTRO Hockey World League Semi-Final 2015 is scheduled from 20th June to 05th July 2015. India will face the host nation Belgium in their opening match of the tournament at 07:30 pm IST on the 20th June 2015. The matches will be telecasted LIVE on Star Sports.
Match Schedule-
| | | | | |
| --- | --- | --- | --- | --- |
| 20 June 2015 | 19:30 IST | India | V/S | Belgium |
| 23 June 2015 | 17:30 IST | India | V/S | New Zealand |
| 24 June 2015 | 19:30 IST | India | V/S | Poland |
| 27 June 2015 | 21:30 IST | India | V/S | Australia |