Windows 10 Released date: Windows 10 is releasing on July 29th, reserve your copy today
New Delhi, Tue, 02 Jun 2015
NI Wire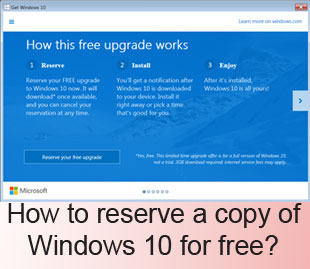 Release date of Windows 10 is announced and it is releasing on July 29th, Microsoft allows the PC owners to reserve the copy of the Windows 10 for free.
Microsoft is notifying the users of Windows 7 and Windows to reserve a copy of Windows 10 by prompting the message. Here we are explaining you how you can reserve a copy of it for your computer?
Finally the new and the last version of the Windows operating system (as announced earlier) Windows 10 is going to be released very soon. Earlier Microsoft released the test builds of the Windows 10 operating system. Now Microsoft is asking the user to reserve a copy of the Windows 10 which will be distributed through internet.
Windows 10 is a featured pack operating system which is going to be released very soon. This operating system features the redesigned Start menu and new web browser Edge. This operating system comes with voice assistant software and designed to satisfy the Windows users.
The Windows 10 operating system is designed to offer unified experience among PCs, tablet and smartphone users. The design of the OS for all the devices are unified and ready to provide better user experience.
View Video: How to reserve a copy of Windows 10?
The process of reserving the Windows 10 for your computer is an easy process. You should have Windows 7 with Windows 7 Service Pack 1 or Windows 8 operating system.
If you are using Windows 7 and it is not updated then update it or download the Windows 7 update and install on your Windows 7 computer. If auto update is enabled on your computer then there is no need to download and install this update.
Now make sure you are connected to the Internet and after some time your computer will display the icon for "Get Windows 10". Click on this icon and a new window will open which will enable you to reserve a copy of Windows 10 operating System.
In the opened window you have to click on the link "Reserve your free copy". In the next window it will ask you to enter your email address. Enter your email address and press "Send confirmation" button.
Application will then reserve a free copy of Windows 10 for you and confirmation message will be display. That's it and you are done for now. Microsoft will update you once the Windows 10 is ready.
This free upgrade of the Windows 10 is full version of the Windows 10 operating system. According to the Microsoft this version is free "for the supported lifetime of your device".
How to Installing Windows 10