Arvind Kejriwal government allowed 6% hike in Electricity bill: Satish Upadhyay
New Delhi, Tue, 16 Jun 2015
NI Wire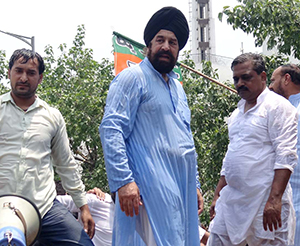 New Delhi, 16th June: Thousands of Delhi BJP workers led by the State President Satish Upadhyay today staged a massive demonstration at I.T.O. against the Arvind Kejriwal government for allowing 6% hike in electricity tariff and running a farce anti corruption campaign in Delhi.
The demonstrators gathered near Feroz Shah Kotla ground and as they started to March towards Delhi Secretariat near I.T.O. a very heavy police posse obstructed them near the Times House. As the workers broke the cordon police started Water Canon charge and declared the demonstration was without permission. The police used force against further movement of demonstrators beyond Patriot House in Fleet Street.
Addressing the demonstrators BJP National Secretary Sardar R.P. Singh said that Arvind Kejriwal government has lost its moral authority to rule. On the issues of Power & Water and safety of women this Government has nothing to give but only promises. Every passing day a new matter of mis-governance by this government comes out.
Delhi BJP President Satish Upadhyay said that Sh. Kejriwal came to power on a promise of free water and electricity at half rates. After 4 months of this government's water bills continue to come as before but there is no water in taps. Now by allowing electricity charges hike the government which earlier broke the back of middle class by withdrawing their subsidy has now broken the back of the poor too with the 6% hike.
Upadhyay said that government's anti corruption campaign is 100% farce. The figures of arrests being publicized are fudged. It is a matter of shame that the Secretary to the Chief Minister Sh. Rajendra Kumar is now being accused of being involved in big frauds at the cost of the exchequer.
Upadhyay condemned the Kejriwal Government for diverting development funds and spending them on self glorification campaigns.