We cannot afford to make mistakes any more: Akashdeep Singh
New Delhi, Tue, 16 Jun 2015
NI Wire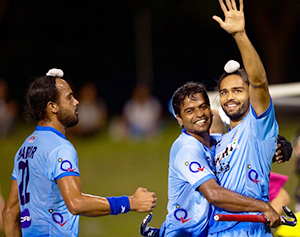 Everyone's responsibility is defined and we have to stand up to it: Vandana Kataria
16 June 2015, New Delhi: With the Coaches working on every aspect of the game with their respective teams so as to get the combination and strategies in place before the start of the all important Fintro FIH World League Semi-Finals, the Indian Hockey teams have their work cut out and are leaving no stone unturned to ensure results which will help them target the top 2 slots in the first phase of the tournament.
Speaking on the upcoming tournament, Vandana Kataria said "Everyone's responsibility is defined and we have to stand up to it now. We have to ensure we do not lose possession on the ball easily and if this happens we are aware of our positions while even ensuring we create opportunities for each other for the crucial quick passes. The idea is just not adding to the number of circle penetrations but to see that we hit the target and score the goals".
Speaking post a hectic practice session, Akashdeep Singh said "We realize the importance of this tournament as the outcome from here will chalk out the future course of action in terms of team combinations, how good will the present strategy work for us in the long run and which are the concerned areas which will need immediate attention. Each player is aware of this and is ensuring that he has to do his job as there is very less scope for mistakes. We as a team have reached a point where we have to grow and become stronger and we are enjoying this challenge."
FIH Hockey World League Semi-Final is scheduled from 20th June - 05 July 2015. India Men Team will be seen clashing against France at 09:30 PM IST in their opening match of the tournament on 20 June 2015 while the Women Team will be seen taking on hosts Belgium on the same day at 07.30 PM IST. The matches will be telecasted LIVE on Star Sports.