BJP demands removal of AAP's Somnath Bharti as MLA
Mumbai, Thu, 11 Jun 2015
NI Wire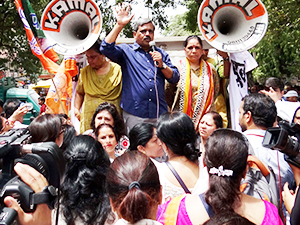 New Delhi, 11th June: New Delhi BJP Mahila Morcha workers today held a demonstration outside the office of former Law Minister & MLA Somnath Bharti at Malviya Nagar. They were protesting against Somnath Bharti for humiliating and torturing his wife. Prominent amongst the demonstrators were party office bearers Smt. Rekha Gupta, Prof. Rajni Abbi, Smt. Shikha Rai, Smt. Kiran Chaddha, Smt. Vishakha Shailani, Dr.Preeti Aggarwal, Smt. Sudha Bhardwaj, Smt. Satyeshwari Joshi, Mahila Morcha District Presidents, Councillors Smt. Savita Gupta, Smt. Meenu Pawar and New Delhi District President Suresh Sharma, General Secretaries Prashant Sharma & Om Prakash. BJP Pradesh President Satish Upadhyay addressed the demonstrators.
Satish Upadhyay said that the Kejriwal Government came to power on the base of sympathy votes on several issues prominent being their talk on women safety and their melodrama of lighting candles over the Nirbhaya incident. Soon after they came to power Kejriwal by not including any women in the government indicated the kind of concern he has for women. Thereafter the U-turn on posting marshals for women security in buses & installing CCTV further cleared that for Kejriwal women security was just an election issue. He said that Somnath Bharti was earlier also in bad news for humiliating foreign women and pornographic films. Now the reports of Bharti harassing & beating his wife for several years has exposed his anti women face.
Upadhyay said that BJP does not believe in interfering in the personal affairs of the people or political leaders but now that Somnath Bharti's matter is in public domain we are here to protest so as to give a feeling of support to the insecure wife of Bharti. He said that in our Indian social culture women often tolerate domestic violence to save the families and so we can well understand that the situation must have reached a boiling point forcing Smt. Bharti who was tolerating domestic violence for four years to come before Delhi Commission for Women.
Upadhyay said that be it Somnath Bharti or ruling party's Kumar Vishwash they do not respect women, for them women are a company for pleasure and Arvind Kejriwal has constantly given protection to such leaders. The Chief Minister has a similar protective attitude towards his bogus degree Ministers, MLAs and corrupt anarchic MLAs like Ms. Rakhi Bidlan. Now People of Delhi will not tolerate Kejriwal Government's patronage for anti women, corrupt and anarchist leaders, if the government does not wake up it will have to face wide public outcry.
Delhi BJP General Secretary Smt. Rekha Gupta said incidents of Kumar Vishwas and Somnath Bharti reflect that AAP which raised campaign in the name of civil society is a party of most uncivilised people.
Delhi Mahila Morcha General Secretary Dr. Preeti Aggarwal said that in keeping with the threatening attitude of the ruling party we appeal to the Lt. Governor to provide security to Delhi Commission for Women Chairperson Smt. Barkha Singh and the wife of Somnath Bharti and the victim of Kumar Vishwas incident.
Source: BJP