India and Japan to play for victory in the last match tomorrow in Bhubaneswar
Bhubaneswar, Fri, 08 May 2015
NI Wire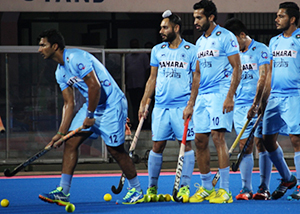 Bhubaneswar, 08 May 2015: Already having captured the four-match Test Series by 2-0, the India Men Hockey Team will be eyeing their third consecutive win against Japan in their fourth and final test match tomorrow at Kalinga Stadium in Bhubaneswar. India will be aiming at continuing with their attacking game with short-passes whereas Japan will be working harder on their finishing and materialising the opportunities in goals.
After playing three matches and getting positive results from all three matches, India is in a better position and are more confident to win the last match of the series. Senior player such as Captain Sardar Singh, VR Raghunath, Birendra Lakra and Rupinder Pal Singh are leading from the front to implement strategies on the field. They have successfully set-up the game and even managing the younger players to play according to the strategies chalked out. Alongwith the presence of senior players, young players such as Manpreet Singh, Satbir Singh, Harmanpreet Singh and Lalit Upadhyay are playing above their level and displaying their best hockey in front of the cheering crowd.
Speaking after the Practice Session, India player VR Raghunath said: "We have been playing good hockey in this tournament and will continue to play in this way. Players are confident and in a good shape. Young players are doing a commendable job and they are taking responsibilities, which is good for the team. Penalty corner is a worry for us but we are working harder on that. Chief Coach Paul vas Ass is good in strategies and we are working on various game-plans. We are focussing on our implementations of the strategies and looking forward to win the last match."
Speaking at the Practice Session at Kalinga Stadium, Japan Coach Keonwook Kang stated: "We are playing good enough in the last few matches. Players are committing mistakes, which cost us the match. We are working harder on rectifying the mistakes and focussing more on strategies. Tomorrow, we will play harder to win the last match of the series."
The 4th match of the four-match Test Series will be held on 9th May 2015 at 07.00 pm at Kalinga Stadium, which will be telecasted LIVE on DD Sports.