Max Healthcare extends support to earthquake victims at Nepal
New Delhi, Wed, 06 May 2015
NI Wire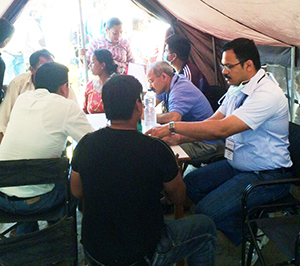 Team of doctors and paramedical staff travels to Nepal to provide emergency medical care to the victims
New Delhi, 6th May, 2015: Termed as the 'Himalayan Tragedy', the recent earthquake in Nepal has claimed thousands of lives leaving the country and its people shaken. Those who survived the catastrophe now face an uphill task of surviving the sanitation and health epidemics that arise after a natural calamity, while some are still praying for a ray of hope as they lie under the rubble of collapsed buildings. In a scenario that calls for humanity to rise and act as one, Max Healthcare has introduced 'Operation Sadbhavna' to extend their support to the earthquake victims of Nepal.
As part of Operation Sadbhavna, Max Healthcare has sent a team of 11 doctors and paramedical staff including physicians, surgeons, anaesthetists, nurses, EMTs (Emergency Medical Technicians) and logistical coordination managers to the calamity hit regions. Doctors from Max Healthcare are working with Nepal Bharat Maitri Hospital, Kathmandu from where they are consulting and treating the injured patients. The doctors are also seeing patients at Bhaktapur and in further rural remote areas. Max Healthcare has also supplied medicines like antiseptics, bandages, pain killers, analgesics, paracetamol, cetrizine, avil, antibiotics, hypertension and diabetes medicines which are being distributed to the quake victims. Employees of Max Healthcare and the Max India Foundation have donated money to buy relief materials for the quake victims like blankets, torches, bed sheets, tarpaulins, sleeping bags, tins of baby food/ powder milk, basic toiletries like soap, toothbrushes, toothpaste, detergent, personal hygiene, sanitary napkins, towels, items of hygiene needs for men, women and children and dry rations like rice, pulses, tea leaves, salt, sugar, glucose biscuits. So far 20 tonnes of these supplies have been sent to Nepal for distribution to the needy.
Mr. Rajit Mehta, Managing Director and CEO, Max Healthcare said, "This is one of the worst natural calamities to have ever struck Nepal. As the magnitude of the tragedy continues to unfold, we feel that it is critical that people who are being rescued should be provided immediate medical treatment. We at Max Healthcare wish to extend all possible support to the people of Nepal in this hour of need. Our team of doctors and paramedical staff will be available 24X7 at Nepal Bharat Maitri Hospital in order to ensure that people get access to medicines and medical aid without any delay."
Approximately 2.8 million people have been displaced by the earthquake, as hundreds of thousands of are afraid to return to their homes. More than 70,000 houses have been destroyed and the figure is expected to rise further. With such a grim situation confronting Nepal, ready medical aid is the first and foremost necessity for the victims.