Hockey: India will play 3rd match against Japan tomorrow in Bhubaneswar
Bhubaneswar, Wed, 06 May 2015
NI Wire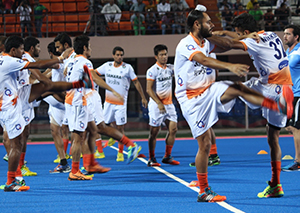 Confident India looks to win 3rd match against Japan tomorrow in Bhubaneswar
Bhubaneswar, 06 May 2015: After an inspiring win over Japan yesterday, India Men Team is riding on confidence to win their third match of the four-match Test Series tomorrow at Kalinga Stadium in Bhubaneswar. After playing two matches against Japan, Indian players have their strategies in place to counter Japan's style of play and attack. On the other side, Japan faced an attacking Indian side yesterday and they understood the fact that they have to plan some out-of-the-box strategies to give a tough competition to the hosts.
Under the Chief Coach Paul vas Ass, Indian players are working on a variety of strategies and team combinations. The series has brought to the forefront good performances from the young players such as SK Uthappa, Dharamvir Singh and Yuvraj Walmiki and are looking forward to more such performances in the next two matches against Japan. Local hero Birendra Lakra is playing as per the crowd's expectations and leading the defence-line of the team. Not conceding a single goal in the second match is a big boost to the team's morale.
Playing with speedy attacks, Japan now has to work on different strategies to convert more opportunities in goals. Penalty corner is a big worry for the Japanese players as they haven't converted a single penalty in the series. They also have failed to breach India's defence line and goal-keeper PR Sreejesh. They are working harder on their finishing and tomorrow's match will be a crucial match for them.
Speaking after the Practice Session, India Chief Coach Paul van Ass stated: "We played better in the 2nd match than the 1st match but failed to materialise many opportunities. Right now, we are in process of rectifying our mistakes and we are focusing more on our mistakes. In tomorrow's match, we need to create more opportunities and convert the penalty corners into goals, which will help us put ourselves in a better place."
Speaking at the Practice Session at Kalinga Stadium, Japan Coach Keonwook Kang said: "India is better than us in the 2nd match and this is the only reason we lost the match. We did lots of mistakes and lost many opportunities against India. We need to change our game-plan for tomorrow's match and focus more on our strategies to improve our game."
The 3rd match of the four-match Test Series will be held on 7th May 2015 at 07.00 pm at Kalinga Stadium, which will be telecasted LIVE on DD Sports.