Entire world knows Pakistan is promoting terrorism: Rajnath Singh
Lucknow, Sun, 24 May 2015
NI Wire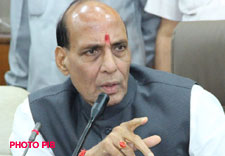 Union Home Minister Rajnath Singh has said that Pakistan should extend all help in tackling terrorism as it was also a victim of the menance. He said that should extend full cooperation in checking terrorism because the country is facing a similar problem today.
Commenting on the defence minister Manohar Parrikar's recent remarks about neutralising terrorists through terrorists, Singh said that not only India, but even entire world knows who is promoting terrorism.
He further said that it must be the first time that a minister of an elected government openly advocates use of terrorism in another country on the pretext of preventing terrorism from that country or its non-state actors.
During his address a SBI officers' convention, Singh said that Fake Indian Currency Note (FICN) racket is a big problem as fake currency is used to promote terrorism.
Singh further lauded Prime Minister Narendra Modi for launching social security schemes. Singh said that even those who criticise us will realise this sooner or later. Even the International Monetary Fund (IMF) has appeciated the scheme.