World Hypertension Day 2015
New Delhi, Sat, 16 May 2015
NI Wire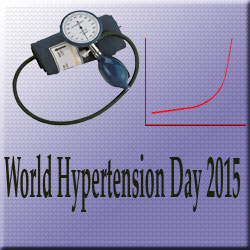 Every year World Hypertension Day is celebrated on 17th May to create the awareness among the masses about the Hypertension disease and educate the people about this Hypertension.
This year the theme of the World Hypertension Day is 'Know Your Numbers' and this theme is for increasing the awareness about Blood Pressure among the people of world.
The World Hypertension Day was first celebrated on May 17, 2005 by The World Hypertension League (WHL) and since then it is celebrated every year to create awareness about the Hypertension disease.
This day (World Hypertension Day) was designated and initiated by The World Hypertension League (WHL). This organization is an umbrella for organizations of 85 national hypertension societies and leagues. This organization is working towards education and spreading the knowledge among the hypertension patients around the world.
The the year 2005 first World Hypertension Day was celebrated with the theme 'Awareness of high blood pressure'. In 2006 the theme was 'Treat to goal' and the focus of this was to keep the blood pressure under control.
The recommended blood pressure for a healthy person is less than 140/90 mmHg. If there is any change in the blood pressure person should contact see a Doctor immediately.
The theme of 2007 World Hypertension Day was 'Healthy diet, healthy blood pressure'.
This organization is also increasing the awareness about the contributing factors of the Hypertension.