Earthquake 7.4 magnitude felt in Delhi, Nepal and across the country
New Delhi, Tue, 12 May 2015
NI Wire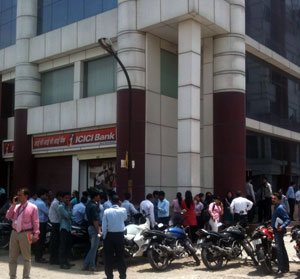 Fresh jolt of Earthquake of 7.4 magnitude felt in Delhi, Nepal and other parts of the country. The jolt of the Earthquake was felt around 12:35 pm which lasted for 20 seconds. Peoples came out of the work place and the home after recognizing the jolt of the Earthquake 7.4.
The waves of the fresh Earthquake was felt in West Bengal, Bihar, Jharkhand and Assam also. In Delhi Metro was taken on halt as per the standard operation procedure of the Metro service. The Government and private offices were immediately evacuated after feeling the jolt of Earthquake.
This jolt was also felt in Nepal and in parts of North India. Jolt of the Earthquake was also felt in Odisha.
The epicentre of the earthquake was 70 kms south-east of Nepal and it was measured 7.1 on the Richter Scale.
The after shocks of the Earthquake was again felt around 1.13 pm again in Delhi and NCR.
There were two epicentres of this Earthquake jolt, one was in Afghanistan and another Nepal area.
Major parts of the India felt the jolt of the fresh Earthquake including Delhi/NCR, Rajasthan, Haryana, Punjab, Bihar, Uttar Pradesh and the north eastern states.
People evacuated the offices and home after realizing the jolt of Earthquake.
There is no report of causality due to fresh jolt of Earthquake.
Last month due to heavy Earthquake of 7.8 magnitude at least 8,046 people and many injured in Nepal and some parts of India.