Pinuk Collection reaches 25.22 Cr in just 3 days
Bollywood, Mon, 11 May 2015
NI Wire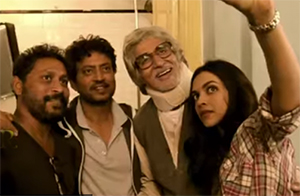 Pinku is Indian Hindi Movie starring Amitabh Bachchan in the Father role, which was released on Friday and in just 3 days its collection summed to 25.22 Cr. This movie is performing well in the box-office in India and attracting more viewers in the box-offices.
The Amitabh Bachchan starter 'Pinu' movie is a Hindi family comedy drama film which is breaking records and creating history worldwide.
The domestic collection of 'Piku' is 25.22 Cr by this weekend.
Friday- 5.32 Cr.
Saturday- 8.70 Cr.
Sunday- 11.2 Cr.
Total of 25.22 Cr in just 3 days of release.
The overseas collection of this movie is also huge and its collection in weekend was near about 2.273 Million USD, which comes to about y 14.54 Cr. GBO.
This movie is getting popular due to massive positive word of mouth and has ensured that youth and families throng the cinemas to take a peek into the crazy world of Piku, Baba and Rana.
Commenting on the film's unprecedented success, film maker Shoojit Sircar added, "It's overwhelming to see the response from audiences across the globe. We are glad that Piku managed to touch hearts and bring smile on their faces. It was a great team work that has eventually paid of."
Sneha Rajani, Dy. President and Head, MSM Motion Pictures commented, " Piku has shown yet again that content is the king.We are mighty pleased by it's success worldwide which we hope will continue in the weeks to come. Piku as a movie is all heart and we are glad that it has touched the right emotional chord. It's been an exhilarating and a very memorable journey for all of us. We are thankful to the audiences worldwide for showering their love on the film!"
A limited screen release, the popular and critical acclaim of Piku has been attributed to a number of factors- from Shoojit Sircar's " deft direction" to Juhi Chaturvedi's " taut screenplay and dialogues" ; from Deepika Padukone's "career best " and Amitabh Bachchan's 'legendary act' as Piku's Baba to Irrfan's "crackling on screen chemistry" with Deepika.
The Monday trends of the film are extremely good and at par with Friday and the film is expected to continue it's dream run at the box office.
More stories about the 'Piku' Movie