Janata Parivar merger train derailed: SP refused before Bihar election
New Delhi, Sun, 10 May 2015
NI Wire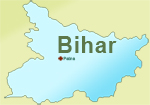 As it was in air that the much talked merger of Janata Parivar never be come on ground, the latest trends show that it can't be success before Bihar Election.
According to media reports, Samajwadi Party's Ram Gopal Yadav has said that there are technical problems with having a united party symbol which needs to be resolved by the Election Commission first.
It has been said that there is a technical problem as if a political party tells the Election Commission that they are going to merge and form a new party, then the original name and symbols of the party will be frozen.
He has said that the Bihar elections are near and the merger cannot be done in a hurry.
It is noted that to curst the Modi government in coming Bihar election, all the Janata Dal old parties were decided to come under one banner. The Janata family merger was the great need for RJD and JDU who are in crisis for their existence in Bihar.