India has planned a manned space mission in 2021: Dr Harsh Vardhan
Bhopal, Sun, 10 May 2015
NI Wire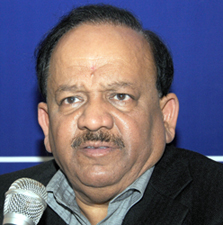 The Union Minister for Science and Technology and Earth Sciences Dr Harsh Vardhan has urged India's scientific community to celebrate the spirit of 'Make in India' by conceptualising processes and products that cover everything from space conquest to the building blocks of life to mundane construction material.
'Here at the AMPRI, I see that spirit already embedded. My scientist colleagues are developing advanced radiation shielding which is needed for astronauts while not forgetting the environmental soundness of flyash bricks and cement,' he remarked on a visit to the Bhopal today.
He further said that India has planned a manned space mission in 2021. Indian scientists have already developed credible technology in most of the areas necessary. This capability to protect our astronauts from all kinds of radiation is another breakthrough. NASA, the Houston (USA)-based centre for space research, has also acknowledged India's steady advancements.
'Wherever I go in India, I see scientists in CSIR, Department of Science and Technology, Ministry of Earth Sciences and even private scientific foundations engaged in inventing and reinventing things. The Prime Minister's call for 'Make in India' has indeed given our scientific creativity a boost,'he said.