Windows 10 will be the last version of Windows operating system
New Delhi, Sun, 10 May 2015
NI Wire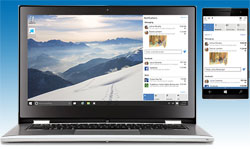 According to the media reports about the Windows 10, Microsoft is probably planning not to release the Windows 11 in future instead Microsoft will release the patches and updates.
Yes its true that the Windows 10 will be the last version of Microsoft Desktop operating System. This was announced by the Developer Evangelist Jerry Nixon this week during Ignite developer conference.
Developer Evangelist Jerry Nixon said "last version of Windows".
The new and last version of Windows operating system 'Windows 10' will be released this year, however the release dates is still not announced by Microsoft.
The Windows 10 operating system will be upgraded on an on going basis and another version of Windows won't be launched.
This news already creating confusion among the Windows users and the Internet users. Everyone is trying to understand why this move was taken by Microsoft?.
This is move is in support of the support and development of Windows in the "ongoing manner" and Microsoft will keep releasing the updates and patches for the Windows 10.
So, Microsoft plan is to release the Windows 10's new development and work in installments.