BJP stages Demonstration at CM House to Demand Sacking of Tainted Minisiters and MLAs
New Delhi, Thu, 09 Apr 2015
NI Wire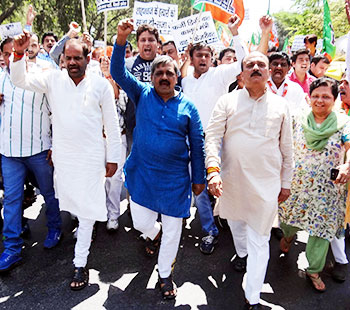 BJP would constantly expose the double standards of political morality being observed by Delhi Government said Satish Upadhay.
New Delhi, 9th April: Delhi BJP workers led by Pradesh President Sh. Satish Upadhyay today staged a massive protest demonstration & courted arrest near the residence of the Chief Minister Sh. Arvind Kejriwal.
Demonstrators were protesting against dual standards of political morality being observed by the Aam Aadmi Party govt. They demanded that tainted ministers Sh. Jitendra Singh Tomar & Sh. Aseem Ahmed Khan be droped from the govt. and cases of liquor distribution against MLA Naresh Balyan & spreading communal hatred against MLA Sh. Amanutullah Khan be pursued with vigor.
Prominent amongst those who courted arrest with Pradesh President were MPs Sh. Ramesh Bidhuri, Sh. Mahesh Giri, National Secretary Sardar R.P. Singh, MLAs Sh. Vijendra Gupta, Sh. Jagdish Pradhan, former MLA Sh. Jagdish Mukhi, Sh. Sahib Singh Chauhan, Party Office Bearers Shri Ashish Sood, Smt. Rekha Gupta, Shri Jai Prakash, Smt. Shikha Rai, Shri Kuljeet Chahal, Smt. Vishakha Shailani, Smt. Kiran Chaddha, Shri Jaiveer Rana, Sardar Hartirath Singh, Shri Atif Rasheed,Shri Nakul Bhardwaj, Smt. Kamaljeet Sehrawat etc.
Addressing the demonstration Shri Satish Upadhyay said that it is a strange politics that a Chief Minister who came to power talking of common man tries to ignore a saddening incident of killing of a common man by his Minister Shri Asim Ahmad Khan's supporters. When the pressure of people and media mounted even then instead of going to meet the grieved family, the Chief Minister harassed the family and children of the deceased for almost two hours.
Shri Upadhyay said that the story of another minister Shri Jitendra Singh Tomar is similar to many a Bollywood film story. Even as people of Delhi are shockingly reading reports of a Law Minister with a bogus degree, the Chief Minister is feigning ignorance like a Mauni Baba. Shri Upadhyay said that as a vigilant opposition party BJP would constantly expose the double standards of political morality being observed by Delhi Government.
National Secretary Sardar R.P. Singh said that till the election Shri Kejriwal talked of providing security to the common man but what security AAP will give to common man has come clear from the Turkman Gate killing incident. He said now Delhi has witnessed a new security culture in Government programs. Those who protested police security have now introduced Bouncer Security Culture.
MP Shri Ramesh Bidhuri said that till other day the Chief Minister who talked of keeping muscle power and corrupt means away from politics is today sitting mum over the matters of MLAs like Shri Naresh Balyan, Shri Amanat Ullah Khan and Shri Sahi Ram. The Government may not have done much for the people but is leaving no stone unturned to protect the tainted Ministers and MLAs.
BJP Legislature Party Leader Shri Vijender Gupta said that this Turkman Gate incident being very big has suddenly become prime news but from day one AAP MLAs have been working as emperors. Incidents involving MLAs Sanjeev Jha, Akhilesh Tripathi, Rituraj Govind are fresh in public memory. He said that BJP will raise the voice of people of Delhi both on the streets and in the Vidhan Sabha.
MP Shri Maheish Girri said that Shri Kejriwal should understand that when a person's sins grow he fears a mirror, similarly, in politics when the Government sins rise it is the opposition which acts as a mirror. Today we have come to show Shri Kejriwal a mirror. It will be better if Kejriwal recognizes the voice of people or BJP will launch a massive agitation.
Former MLA Sahib Singh Chauhan said Delhi politics has never seen a man like Shri Arvind Kejriwal. Till before the elections he used to roam around the city with crocodile tears to gather public sympathy but today intoxicated with power instead of going to meet a grieved family his men force the family to go and meet the CM.
Source: BJP