World Health Day: HCFI and IMA Trained 4000 people
New Delhi, Tue, 07 Apr 2015
NI Wire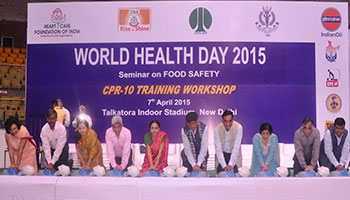 Heart Care Foundation of India & Indian Medical Association train over 4000 people in hands only CPR 10 & essential food safety measures on World Health Day
New Delhi, April 7, 2015: On the occasion of World Health Day, Heart Care Foundation of India and Indian Medical Association organized a day long awareness programme on food safety and essential life-saving techniques The event was organized jointly with Delhi Medical Association and NDMC, supported by Lions Club and India Oil. The event which took place from 8am - 5pm consisted of a CPR training camp, a perfect health parade, panel discussion on food safety, inaguration and a cultural show.
Speaking on the ocassion, Padma Shri Awardee Dr A Marthanda Pillai, National President, and Padma Shri Awardee Dr K K Aggarwal, Honorary Secretary General, Indian Medical Association and President, Heart Care Foundation of India in a joint statement said, "Awareness about food safety is essential at all levels. Towards this endevor we will be roping in all 2.5 lakh doctors who are members of IMA in helping raise aeareness about its importance. What people do not realise is that diseases such as diarrohea are food & water borne and preventable if food safety and hygiene measures are adhered to.. At present over 6.9 lakh people die of diarrhoeal diseases in India with many deaths not being accounted for. Three lakh of these are in the age group 0-5 years. Lives of several children can be saved through the widespread use of a simple solution of oral rehydration salts (ORS) and zinc supplementation. Today's programme will help educate the masses so that they are informed and can make sensible choices."
Adding to this Mr Jalaj Srivastava, Chairman, NDMC emphasized on prevention and said, "Every penny spent on food safety is equivalent to a reduction in every penny spent on disease treatment."
A panel discussion on food safety by renowned influencers from different fields also took place. Some of the panelists included dietician Dr. Shikha Sharma, scientist Dr. Anuj Sinha, pharmacist Ms. Pallavi, pediatrician Dr. Anupam Sachdeva, dancers Nalini Kamilini, journalist Sh. Dhananjay, hotilier Sh. Udit Kumar & surgeon Dr. R.N. Tandon amongst others. The panel discussion was moderated by Dr K K Aggarwal.
Dr. Anupam Sachdeva, Chairman, Pediatrics, Director, Pediatric Hematology Oncology and Bone Marrow Transplantation Institute For Child Health, Sir Ganga Ram Hospital who was one of the panelists said, "Diarrhoea is a leading killer of children, accounting for 9 per cent of all deaths among children under age 5. Several studies have demonstrated that zinc supplementation reduces the severity and duration of diarrhoea and reduces the incidence of subsequent episodes of diarrhoea for several months. WHO recommends zinc for children under 5 years of age with diarrhoea (10 mg/day for under 6 months and 20 mg/day for 10 days for 6 months to 5 years). Zinc deficiency is common in children in developing countries, and zinc deficiency appears to contribute to the risk of developing diarrhoea and pneumonia. Sufficient dietary zinc sources are available in a typical mixed diet, but lacto-ovo vegetarians need more milk, eggs, grains, legumes, nuts, and seeds to achieve adequate levels."
Dr Ajay Lekhi, President, Delhi Medical Asociation and Dr P K Sharma, MOH, NDMC said in a joint statement, "Raw materials like water, ice, fruits and vegetables are common sources of bacteria. Using safe water, pasteurized milk and checking for expiry dates can ensure food safety. Do not store food in the refrigerator for too long and avoid thawing at room temperature."
Ten tableaus with health messages on TB Control, Cancer Control, Food Safety, CPR 10 - Save a life, Sameer Malik Heart Care Foundation Fund for heart patients, formula of 80- how to live longer healthy life were also flagged off on the occasion.