AAP became a party of VIP and VVIP: Ajay Maken
New Delhi, Mon, 06 Apr 2015
NI Wire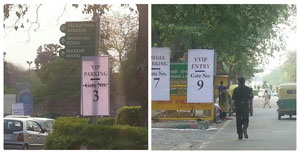 Ajay Maken has said through his tweets that AAP has become a part of VIP and VVIP in just 50 days.
Ajay Maken the chief of the Delhi Congress party has posted a picture on his twitter account showing the VIP parking and VVIP boards outside Talkatora stadium. In the Talkatora stadium, AAP chief and Delhi Chief Minster Arvind Kejriwal were launching the anti-corruption helpline.
The Congress party strongly criticizing the AAP party and posted the photos of the VIP boards placed at the event. Ajay Maken twitter post says "Just passed through the Talkatora Stadium- Look at the pictures- How in just 50 days AAP became a party of VIP&VVIP?."
The Delhi Chief minister and AAP chief Arvind Kejriwal launched the anti-corruption helpline in a function at the Talkatora Stadium.
Ajay Maken alleged that just for launching the anti-corruption helpline in the city there is separate entries for VIP and VVIP card holders.
He also said that the members of AAP is behaving like VIPs' in merely 50 days.
Earlier in all the meeting and agitations the AAP party was against the VIP culture. The AAP has also declared the 'VIP culture' as evil or wrong. AAP party always projects itself as 'common man.'