Gajender case: Youth Congress Complaint against CM Kejriwaal and Others
New Delhi, Sun, 26 Apr 2015
NI Wire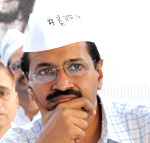 Under the Leadership of Delhi Pardesh Youth Congress President Sh.Amit Malik activist of Youth Congress met with Delhi Police Officials at Parliament Street Police Station & given written Complaint Against CM Arvind Kejriwaal, Deputy CM Sh.Manish Sisodia and AAP Party Leader Kumar Vishwas in Farmer Gajender Suicide matter, Youth Activist demanded Police to Lodge immediately FIR with named Delhi CM, Deputy CM Of Delhi and AAP Leader Kumar Vishwas.
They wrote in Complaint that AAP Party activist forced Gajender to commit Suicide , Gajender Wants to Meet Kejriwaal but AAP party volunteers refused Gajender Demand and Even Mr Kejriwaaal and Deputy CM Sh.Sisodia ignored Gajender , the whole incident happen in front of Mr Kejriwaal, Mr Sisodia andOthers leader of AAP Party , No body were going to help Gajender , all were seeing "Tamasha" that time, finally he hang himself in front of AAP Party Top Leadership, after his suicide AAP Party not stop the Rally, they continue the same & include CM Kejriwaal all leader given their speech and Farmer was hanging on tree, no body take him for Hospital.
Sh.Amit malik asked police to serve immediate Notice to CM Sh.Arvind Kejriwaal, Deputy CM Sh.Manish Sisodia & AAP Party Leader Sh.Kumar Vishwas to join investigation , Sh Malik also said that till the inquiry is going CM Should give resignation to ensure that Enquiry can't effect by any influence.
The Police Officials assured Youth Congress Activist they take all legal action in this case and if any Body find guilty in this case police will take all actions against him or her , Police Officials also Said that already this case handover to Crime Branch of Delhi Police and Crime Branch start their investigation.