Historic Dharahara Tower collapses in Nepal due to two major earth quakes
New Delhi, Sat, 25 Apr 2015
NI Wire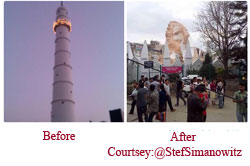 Two major earth quakes jolted Nepal and other parts of India. Due to quakes historic Dharahara Tower collapses in Nepal and hundreds of people are feared to be trapped.
There are reports of major destructions from Nepal.
The former Prime Minister of Nepal Lokendra Bahadur Chand urged people to remain calm.
There has been reports of major damages to many historical building from Nepal.
In India Earth quakes felt in almost all parts of North India and felt in Delhi, UP, Bihar.
There are reports of damages in India also.
The Prime Minister, Shri Narendra Modi, has convened a high level meeting with Ministers and top officials at 3 PM in the wake of the situation arising due to the Earthquake.
The Prime Minister has spoken to the Chief Ministers of Uttar Pradesh, Bihar, Madhya Pradesh and Sikkim, in connection with the Earthquake.