Heart Care Foundation of India celebrates World Earth Day 2015
New Delhi, Thu, 23 Apr 2015
NI Wire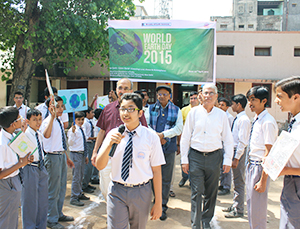 Hosts inter-school activities for over 400 students jointly with Indian Medical Association, the Ministry of Earth Sciences, Govt. of India and H.M.DAV Sr Sec School Daryaganj
New Delhi, April 22, 2015: Heart Care Foundation of India, a leading national non-profit organization jointly with Indian Medical Association, the Ministry of Earth Sciences, Govt. of India today celebrated World Earth Day. On the occasion, various inter school activities were organised at H.M.DAV Sr. Secondary School, Daryaganj, the co-host school. The theme for this year's celebrations was "Clean Earth - Green Earth" and students from 15 to 20 schools were seen participating in competitions including placard designing, painting and model display. The underlying message of the event was the importance of Swachchtha and its close link with living a healthy life.
Speaking at the event, Dr K K Aggarwal, President, Heart Care Foundation of India and Hon. Secretary General, Indian Medical Association said, "We at Heart Care Foundation of India have been celebrating World Earth Day since almost three decades. This year we have dedicated ourselves to raising awareness about how just keeping one's environment clean over 50 percent of the common health diseases can be prevented. I am grateful to our Prime Minister Honorable Narender Modi Ji for initating a campaign as noble as the 'Swachh Bharat Abhiyan and urge every person to join and support it".
"I will also like to highlight here that in the 21st century we are facing various environmental emergencies such as global warming, increase in the occurance of natural disasters, changing weather patterns that can have disastrous consequences in the future. It is the duty of every person to live an environment friendly life by saving water and electricity, using solar options where possible and reducing noise pollution. We need to promote good practices such as walking and cycling instead of using cars to move around when possible, using public modes of transport and reducing pollution which is the leading cause of lifestyle diseases in today's date and age. We are thankful to Ministry of Earth Sciences for their relentless support throughout these years and hope that we can together continue to make a difference."
Different competitions for students belonging to primary (1st to 5th standard), middle (6th to 8th) and senior classes (9th to 12th standard) were held. Junior section students participated in placard making wherein they framed messages on 'global warming'. The little ones took everyone aback with the depth of their messages. Students from middle participated in a painting competition the topic of which was 'Use of natural resources'. The young artists displayed imagination at its best and their painitngs will be displayed around the school for others to see and learn. Senior school students designed models on the theme 'Green House effect'. Through varied glass models, students showcased their own interpretations of the
phenomenon. Winners from each category were awarded and participation certificates were handed over to each and every participant.
Being the co-host of the event Shri R K Tiwari, Principal, H.M.DAV School, Daryaganj, said, "We are glad to be associated with Heart Care Foundation of India for the event. Children are the future of our country. Considering the serious environmental concerns that the world is facing, it is important to create awareness among them about ways to protect our surrounding. We always believe in propagating futuristic thinking for our students. Today's activities would make the students think about the various environmental problems and come up with means to tackle them."
Dr. Anil Sabarwal, CMD, Sabarwal Hospital, Daryaganj, who was the Chief Guest for the event said, "I would like to congratulate Heart Care Foundation of India for taking such a noble initiative. Besides damaging the environment; hazards such as global warming and increase in pollution are also causing various health problems. In the past few years we have seen a massive rise in fatal diseases like cancer. We cannot rule out the role of environmental pollution for this increase. Thus, it is important that every citizen should be aware of the necessity to keep our environment clean, green and disease free."