Google Doodle is celebrating Earth Day
New Delhi, Wed, 22 Apr 2015
NI Wire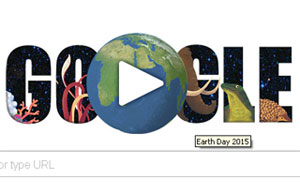 Google Doodle is celebrating the Earth Day by displaying the special image and message on it search home page. The Earth Day is celebrated world wide to demonstrate the support for environment protection.
If you place the mouse over the image displayed on the Google search home page it will display the message 'Earth Day 2015'. On the home page it is displaying nice revolving Earth image.
If you click on the image it will take you to a another page with a quiz and other information from the Google Search. You can even take the quiz and it finally display a result. You can take the query any number of time.
Each year Earth Day is celebrated on April 22 in more than 192 countries world wide. The Earth Day was first celebrated in the year 1970 and now more than 192 countries participate in this event.
This year 'Earth Day 2015' is the 45th anniversary of the annual day of Earth Day. Earth day begin in the year 1970 in United States when rallies for the environment project were taking place.
The environment can be protect by doing the simple things daily in day-to-day life.
Environment can be protected by:
Reducing the Carbon emission: Use of clean energy can reduce the carbon emission

People should start spending time with nature

Turn off the electricity equipment when not in use

Use of solar power

Use the LED light bulbs

Switch off the TV when not in use

Use the public transport when ever possible
By reducing the energy consumption and using the clean power source Earth can be saved.