Watch Deepika, Irrfan in 'Piku' song 'Bezubaan'
Bollywood, Wed, 15 Apr 2015
NI Wire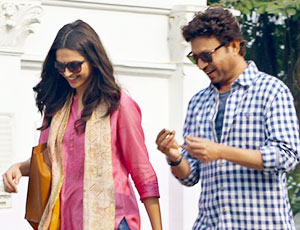 Mumbai, April 15, 2015: The song track 'Bezubaan' from the Amitabh Bachchan upcoming movie 'Piku' is released. Last trailer of the movie received overwhelming response from the users.
Shoojit Sircar's family comedy drama, 'Piku' that has been in news for an overwhelming response to its trailer and its 'Journey Song', is now out with its second track: 'Bezubaan'.
Incidentally, the song happens to be Shoojit Sircar and music composer Anupam Roy's favourite. Director Shoojit adds, "Bezubaan was the first song that Anupam composed for Piku and this led me to offer him the entire album of the film, as a debut music director in Bollywood! The song is romantic yet nostalgic and my personal favourite. It's melody at its best." ' Bezubaan' has been sung by Anupam himself and he has co-written its lyrics with Manoj Yadav.
Stars in the 'Piku' Movie are:
Deepika Padukone as Piku
Amitabh Bachchan as Bhashkor Banerjee
Irrfan Khan as Rana Chaudhary
Moushumi Chatterjee
Raghuvir Yadav
Jishu Sengupta
Akshay Oberoi
'Piku' is a roller coaster ride of a crazy father-daughter relationship essayed by Amitabh Bachchan and Deepika Padukone with Irrfan Khan top lining the cast, in a pivotal author backed role. 'Piku' also marks coming together of Shoojit Sircar, Ronnie Lahiri and Juhi Chaturvedi, the team behind Vicky Donor. Produced by MSM Motion Pictures (a division of Sony Entertainment Network), Saraswati Entertainment and Rising Sun Films, distributed worldwide by YRF, 'Piku' will release worldwide on May 8, 2015.
The 'Piku' movie is Hindi movie which is all set to release on May 08, 2015 in box office in India. 'Piku' movie is comedy-drama film directed by Shoojit Sircar. In the movie Amitabh Bachchan plays the role of an aging father.