Vice President releases book "Aatank Ke Saaye Men"
New Delhi, Wed, 01 Apr 2015
NI Wire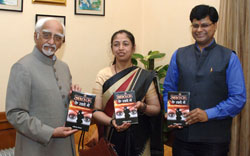 The Vice President, Shri Mohd. Hamid Ansari releases a book entitled "Aatank Ke Saaye Men", authored by Smt. Garima Sanjay, in New Delhi on March 31, 2015.
The Vice President of India Shri M. Hamid Ansari released a book entitled "Aatank Ke Saaye Men" authored by Documentary filmmaker Smt. Garima Sanjay here today. The Vice President congratulated the author on bringing out such a useful book on the burning issue of contemporary growing global problem of Terrorism and how it has very badly affected the lives common people and the society at large as well as hampered the path of progress in these countries. He wished the author good success in her creative endeavour and hoped that this book will be useful for the people in getting united against the grave problem of terrorism.
The book "Aatank Ke Saaye Men" mainly dwells upon the menace of the burning problem of Terrorism in most of the countries worldwide and highlights that with the problem of terrorism, not only that individual who is affected but his family, social circle and the society at large get affected. It says that how terrorism has hampered the path of growth in these countries. The book also speaks against the social evils like anti girl child attitude and dowry.
Source: PIB