PM Modi's Germany, France and Canada tour
New Delhi, Sat, 28 Mar 2015
NI Wire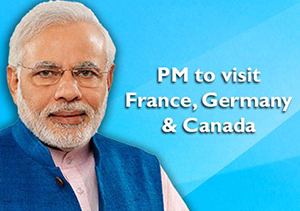 PM Modi twitted about his tours to the France, Germany and Canada from 10th April 2015 to 16th April, 2015. This was announced through his facebook and twitter page.
This visit of modi is to strengthen the ties with these countries. The objective of these visits is to create the job opportunities for our youths of the country.
His visit is to promote the India as manufacturing hub.
His facebook post says "I will be travelling to France, Germany and Canada from 10th April 2015 to 16th April, 2015. The primary objective of my visit is to support our national economic agenda, especially my desire to create job opportunities for our youth by promoting India as a manufacturing hub, accelerate skill development for them and meeting our requirements for investments, advanced technology and resources.
By visiting these three countries, I am honouring long standing invitations from three of our most important partners, who have strong friendships with India."
"My France, Germany and Canada visit is centred around supporting India's economic agenda and creating jobs for our youth. Will discuss strengthening India-France economic co-operation and visit some high-tech industrial units outside Paris. In Germany, Chancellor Merkel and I will jointly inaugurate Hannover Messe where India is a partner country. Looking forward to enhancing ties with Canada and interacting with leaders, captains of industry and diaspora in Canada," the Prime Minister tweeted.
Source: PIB