Land acquisition bill not anti-farmer: Modi in 'Mann Ki Baat'
New Delhi, Sun, 22 Mar 2015
NI Wire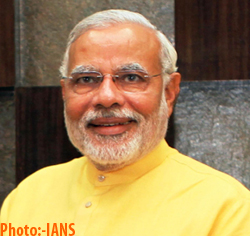 Keeping aside all the speculations of opposition and its rumours, Prime Minister Narendra Modi said that his government was only removing the 'shortcomings' in the existing legislation so that 'our farmers don't suffer'. He said that the present'bill is aimed at the welfare of farmers and villages.
He was addressing farmers in his monthly radio address 'Mann Ki Baat'.
During his address, Modi said that the Land Acquisition Act, 2013, was passed in a hurry. We too supported the government then but soon realised that it was not in the interest of the farmers and decided to remove its shortcomings.
He further said that the 2013 act had kept out of its purview 13 laws including those related to railways, highways and mines. These accounted for most of the land acquisition. He blamed that there are rumours against it were meant to keep the farmers poor and backward.
Further adding his commitment for his government, he said that it had to bring in an ordinance so that farmers get the right compensation for the land acquired. When the 2013 act was enacted, many MPs from the previous United Progressive Alliance government opposed it, saying it was anti-farmer and would only help bureaucrats and officers.
Modi assured the farmers during his address that the highlights of the old legislation had been preserved in the new bill including providing job to a young member of the family whose land has been taken away.
Prime Minister stated that it was wrong to think that land acquired in the villages would be used for private businesses.