Asus Zenfone 2 vs HTC One M9 - Two best phones in 2015
New Delhi, Thu, 19 Mar 2015
NI Wire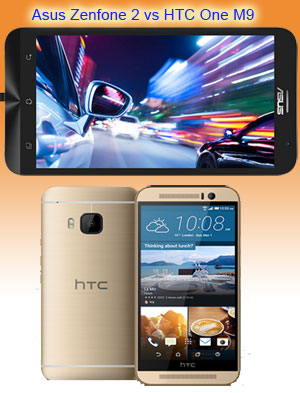 The smart phones Asus Zenfone 2 and HTC One M9 are the best phones of the year 2015. These phones meets the demand of the users of smart phones. HTC One M9 comes with 20.7MP Camera while Zenfone 2 has a 13MP camera.
ZenFone 2 is a smart phone variant with 64GB and a new variant Asus ZenFone 2 ZE551ML has been recently confirmed by the Taiwanese handset giant. In the last week in a event at Taiwan it revealed the pricing of the ZenFone 2.
The mobile phone HTC One M9 was unveiled at a press conference which was held in Barcelona over the weekend. This phone will be available in stores by March 31st.
Asus Zenfone 2 vs HTC One M9
Here are the comparison of features of Asus Zenfone 2 and HTC One M9 phones.
Phone design
Asus Zenfone 2 is based on the previously used Gorilla Glass 3 protection design and its the screen of the phone is 0.5inches larger. The screen resolution of the screen 1080 x 1920 pixels. This phone gives 403 pixels per inch count which is very good feature.
The phone HTC One M9 comes with cool unibody metal design with gentle curves and the phone comes with gold frame around the silver body. Its thickness in is 0.2mm and measuring 9.6mm. The display of the screen is Super LCD3 which is measuring 5inches. The screen resolution is 1080×1920 pixels at 441ppi.
Hardware and OS
The HTC One M9 comes with Qualcomm's MSM8994 Snapdragon 810 with four quad core processors, which is most powerful processor. HTC One M9 come with a customized versions of Android 5.0 operating system which is the latest version of Android operating system from Google.
While Zenfone 2 has 64-bit Intel Atom processor and up to 4GB of RAM. It has internal storage of 32GB and supports expandable storage type microSD upto 64 GB. The Android 5.0 Operating System is installed on this phone.
Camera
HTC One M9 is fitted with 20.7MP while Zenfone 2 has a 13MP primary camera. Photo and video quality of both these cameras are good.
Battery
HTC One M9 comes with 2,840mAh battery. Zenfone 2 comes with 170.00 mAh.
Price
The prices of HTC One M9 in India is around Rs. 40195.
The price of Zenfone 2 in India is around Rs. 9900
The HTC One M9 is much expensive than Zenfone 2.