Dharmaditya Patnaik wins at 4th Cartier 'Travel with Style' Concours D'Elegance
New Delhi, Mon, 16 Mar 2015
NI Wire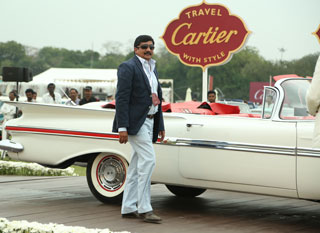 The fourth installment of Cartier 'Travel with Style' Concours D'Elegance was hosted in New Delhi, on March 13th and 14th 2015, at the Jaipur Polo Grounds which saw Mr. Dharmaditya Patnaik win another awards in the 'Best in Class Post-War Classic Fabuleux Fin' category.
Since its inception in 2008, the event has played host to the crème de la crème of vintage automobiles and each automobile is hand-picked by its curator, Indian automotive historian Manvendra Singh of Bharwani, and only the very best make it to the final showcase.
The Cartier 'Travel with Style' Concours comprises of four categories - Vintage Classics, Post­war Classics, Exotic Cars and Roadsters and, of course, 'The Best Car of the Show Award'. The timeless automobiles will be judged on various parameters such as originality and current condition under various categories and this year, two new categories have been added- the 'Picolo Fiat Class', which celebrates the Italian company's famous small cars and the 'Veteran Class'- for motorcycles from the dawn of motoring to 1930.
The collector from Orissa, Mr. Patnaik's Chevrolet Impala 1959 drop-head Coupe Convertible with red interiors was on display. He possesses a royal collection of 35 classic cars, which includes two striking Rolls-Royce 20hp of Maharanas of Udaipur and Mercedes Benz 630 owned by Alexandrajeet Singh. His 1923 Rolls Royce 20 HP had previously bagged the best car prize in the 'exotic cars' category at the prestigious The Cartier 'Travel with Style' in Mumbai.
The judges for the event include Sandra Button (chairman of Pebble Beach Concours), Jean Todt (president of FIA) (Federation Internationale de l'Automobile), Riccardo Patrese (F1 racing driver) Sir Michael Kadoorie and Nigel Matthews (classic car collectors), David McKirdy (poet and classic car restorer), Yasmin le Bon (supermodel) and Simon Le Bon (musician), amongst other esteemed judges.