Pernia Qureshi to be Seen in a Royal Avatar
Mumbai, Mon, 16 Mar 2015
NI Wire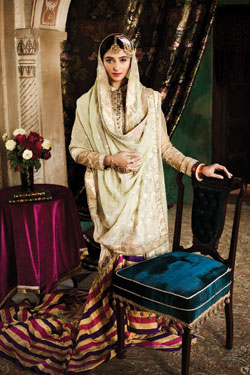 Mumbai, March 16, 2015: Stylist-turned-actor, Pernia Qureshi is all set to make her debut with Filmmaker Muzzafar Ali's Jaanisaar this year, and we hear that a lot of thought and planning went into handpicking the ensemble for the character of Noor, played by the multi-talented beauty.
The film is a period drama set in the last years of the Mughal rule and follows the life of a courtesan in Lucknow. Hence, designing outfits that would enhance the authenticity of that time period was a lingering challenge.
The designer said, "We used a mix of wool and silk and got the fabrics woven in Kotwara. Today, most of the designers use georgette but, we avoided that fabric to suit the Victorian influences prevalent during that time."
We hear that the pretty lady's look for the movie is going to include a lot brocade work, plentiful shades of greens and purples along with some pretty chokers, long haars and haath phool to bring out the mood of the era. Adding to that, all the shawls used in the film are made of original Jamawar silk and a special shoemaker was hired to craft the mojaris popular during those times. And we hear it took a year and a half to get these wonderful costumes in place.
Meera Ali, producer of the movie says, "Pernia is thin and tall and with a little training she pulled off the long Indian outfits perfectly".