Countries to reaffirm their commitment for effective disaster risk reduction: Rajnath Singh
New Delhi, Sun, 15 Mar 2015
NI Wire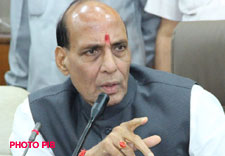 The Union Home Minister, Rajnath Singh chaired the Ministerial Round Table on 'International Cooperation in support of post-2015 Framework for Disaster Risk Reduction', today at the 3rd UN World Conference on Disaster Risk Reduction being held in Sendai, Japan.
The Ministerial Round table chaired by Shri Rajnath Singh was one of the most important round tables focusing on the issue of global cooperation for disaster risk reduction in post-2015 framework. There was participation from over 35 countries from Asia-Pacific, Africa, America, Europe, etc as well as 8 international organisations.
The objective of the deliberations was on generating ideas to bring about better international cooperation is support of post-2015 Framework for DRR.
What are the strategic areas that require international cooperation and partnership to support the implementation of the post-2015 framework for disaster risk reduction? What new mechanisms, or strengthening of existing mechanisms, are needed?
What should be a regional and/or international cooperation mechanism to monitor the progress of the post-2015 framework for disaster risk reduction implementation through the targets as specified in the framework?
How can we ensure international cooperation and partnerships, for least developed and developing countries to build and strengthen their capacities to implement a post-2015 framework for disaster risk reduction?
Shri Rajnath Singh said that there was active contribution from participants who made several useful suggestions. There was agreement that there should be more focus on disaster risk reduction, and our efforts should not be limited to post-disaster relief and reconstruction, and that our development activities and paradigm should integrate disaster risk reduction strategies, he added.